Retrospective Year 11 Modern History and EbookPlus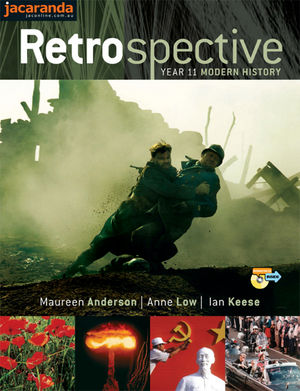 Retrospective Year 11 Modern History and EbookPlus
ISBN: 978-0-731-40684-5
Jan 2008
352 pages
Product not available for purchase
Description
YEAR 11
Retrospective is a new full-colour textbook and eBookPLUS designed to support the revised NSW Modern History Stage 6 syllabus. Written by our established and respected author team and with over 300 visual and written sources, Retrospective offers an engaging and stimulating approach to the popular case studies and the core content studied in Year 11, including the HSC Core on World War 1. 
Retrospective includes:
a range of Preliminary Course case studies covering popular topics as identified in teacher surveys, with source questions and activities focussed on meeting syllabus objectives and outcomes
a unique 'Historical Investigation' chapter to help students establish a topic of interest to investigate and to enhance their skills in research and presentation
coverage of the Preliminary Course core study, with explanations and annotated sources to guide students in analysing sources and using the methods of historical inquiry
four chapters covering the HSC Course core study, 'World War I 1914-1919', built around a stimulating selection of over 140 sources, with annotations and source questions aimed at building knowledge and skills
HSC-style exam practice questions at the end of each HSC chapter 
Among the student friendly features of this new resources are:
the fresh and contemporary, full-colour design
chapter openers highlighting areas of focus, key concepts and key dates
important key terms defined in context and in the glossary
a wide variety of course material encouraging students to ask relevant historical questions
integrated ICT activities and weblinks to access useful websites for further research
Retrospective eBookPLUS is an electronic version of the textbook and a complementary set of targeted digital resources. These flexible and engaging ICT activities are available online at the JacarandaPLUS website (www.jacplus.com.au).

Your eBookPLUS resources include:
• Student worksheets designed in Word for easy customisation and editing
• ICT activities
• Weblinks to other useful support material on the internet
Click to view Retrospective Year 11 Modern History eBookPLUS.
PART 1: CASE STUDIES
1 Bismarck and the unification of the German states
2 Yankees and Confederates in the American states in the mid-nineteenth century
3 The decline and fall of the Romanov dynasty
4 The origins of the Arab-Israeli Conflict 1880-1947
5 Decolonisation in Indochina 1945-1954
6 Nuclear testing in the Pacific, 1950s to 1960s
7 The Civil Rights Movement in the USA in the 1950s and 1960s
8 The assassination of John Fitzgerald Kennedy
PART 2: THE HISTORICAL INVESTIGATION
9 The historical investigation
PRELIMINARY COURSE CORE STUDY: THE WORLD AT THE BEGINNING OF THE 20th CENTURY
10 The world at the beginning of the twentieth century
PART 4: HSC COURSE CORE STUDY: WORLD WAR I 1914-1919: A SOURCE-BASED STUDY
11 War on the Western Front
12 The home fronts in Britain and Germany
13 Turning points
14 Allied Victory