Retrospective Year 11 Modern History and eBookPLUS (Online Purchase), 1st Edition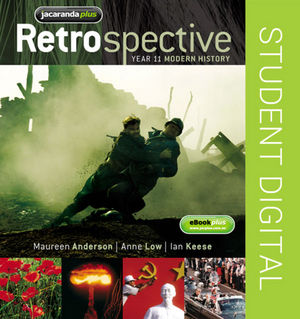 Retrospective Year 11 Modern History and eBookPLUS (Online Purchase), 1st Edition
ISBN: 978-1-742-16409-0
Jul 2009, Jacaranda
400 pages
Product not available for purchase
Description
Retrospective eBookPLUS is an electronic version of the textbook and a complementary set of targeted digital resources. These flexible and engaging ICT activities are available online at the JacarandaPLUS website (www.jacplus.com.au).

Your eBookPLUS resources include:
• Student worksheets designed in Word for easy customisation and editing
• ICT activities
• Weblinks to other useful support material on the internet

 

  
What is onlinepurchase?
onlinepurchase is a Jacaranda digital only product.
Following payment you will receive a registration code via email.
Go to www.jacplus.com.au to register your code and access your digital resource.

Click to view Retrospective Year 11 Modern History Textbook & eBookPLUS. 

 

 
PART 1: CASE STUDIES
1 Bismarck and the unification of the German states
2 Yankees and Confederates in the American states in the mid-nineteenth century
3 The decline and fall of the Romanov dynasty
4 The origins of the Arab-Israeli Conflict 1880-1947
5 Decolonisation in Indochina 1945-1954
6 Nuclear testing in the Pacific, 1950s to 1960s
7 The Civil Rights Movement in the USA in the 1950s and 1960s
8 The assassination of John Fitzgerald Kennedy
PART 2: THE HISTORICAL INVESTIGATION
9 The historical investigation
PRELIMINARY COURSE CORE STUDY: THE WORLD AT THE BEGINNING OF THE 20th CENTURY
10 The world at the beginning of the twentieth century
PART 4: HSC COURSE CORE STUDY: WORLD WAR I 1914-1919: A SOURCE-BASED STUDY
11 War on the Western Front
12 The home fronts in Britain and Germany
13 Turning points
14 Allied Victory