Revealing Nursing Expertise Through Practitioner Inquiry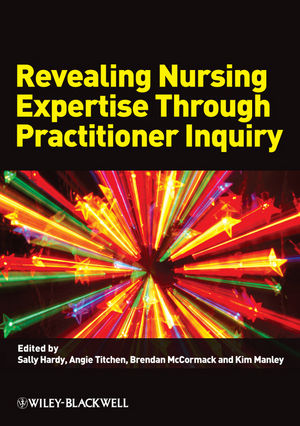 Revealing Nursing Expertise Through Practitioner Inquiry
ISBN: 978-1-405-15178-8 June 2009 Wiley-Blackwell 304 Pages
Description
Revealing Nursing Expertise Through Practitioner Inquiry explores and reveals the often hidden workings of 'expert practitioners'. It provides valuable insights into developing practice expertise and how expert nursing practice is a key influence on health care practice. The authors present evidence around the interconnected components needed to facilitate, support and enable nurses in their practice settings through a transformational framework used to further develop and refine nursing practice expertise.

Part 1 explores the current context of practice expertise and the process of practitioner inquiry.  Part 2 examinplores the evidence for practice expertise, using exemplars from the extensive 'Expertise in Practice Project'. This includes perspectives of practitioners developing their expertise in diverse areas of clinical practice as well as of from those who facilitate practitioners to develop and articulate their practice expertise. Part 3 explores the development of portfolios of evidence that demonstrate expertise, examines models and approaches to facilitation and provides a toolkit of resources.

Revealing Nursing Expertise Through Practitioner Inquiry provides important evidence to support the claim that expert nurses change patients' worlds as well as transforming practice, workplace performance and organisational wide service developments.
Provides a framework for exploring and developing nursing expertise

Enables nurses to articulate their expertise and examine their own practice

Offers practical guidance on facilitating inquiry based practitioners

Draws on results of the RCN Expertise in Practice project

Written collaboratively by practitioners, practice developers and nurse academics
Contributors
Foreword
Introduction
Abbreviations
Section One: The Context
1. From Artistry in Practice to Expertise in Developing
Person-Centred Systems: A Clinical Career Framework
Kim Manley, Angie Titchen and Sally Hardy
Introduction
The context of nursing practice expertise
Nursing practice: person-centred expertise
Expertise in developing person-centred systems
Four domains of person-centred expertise
The clinical career framework
Summary
References
2. Practitioner Research
Brendan McCormack
Introduction
Practitioner research – the context
Practitioner research – what is it?
The transformative potential of practitioner research
Emancipatory action research
Emancipatory practice development
Transformational practice development
Operationalising methods of practitioner research through reflexivity
Conclusions
References
3. A Kaleidoscope of Nursing Expertise: A Literature Review
Angie Titchen and Sally Hardy
Patterns and colours
Professional artistry
References
Section Two: Practitioner Examples
4. Transformational Impact of the Expertise in Practice Project
Maeve McGinley
Introduction
Section one: starting the journey
Section two: a new beginning
Conclusion
References
5. Working with Critical Companionship
Angela Brown and Karen Harrison
What is a critical companion?
Professional artistry
Endings and potential
Acknowledgements
References
6. Critical Companionship – The Lived Experience
Alison Greggans and Margaret Conlon
Introduction
Acknowledgements
References
7. Expertise in Practice – Older People
Jonathan Webster
Introduction
Developing practice with older people
Conclusion
Acknowledgments
References
8. The Role of the Consultant Nurse and Research in Articulating Expertise
Cheryl Crocker
Introduction
Developing a nursing technology
Technology transferred
Conclusion
References
9. The Impact of Clinical Expertise on Patient Care in Rheumatology
Sarah Ryan
Introduction
Section 1: caring for patients with RA
Section 2: nurse-led clinics: added value to patient care
Evaluating practice
Section 3: the effectiveness of nursing interventions
Conclusion
References
10. Exploring the Relationship between Education Expertise and Nursing Practice
Nancy Jane Lee
Introduction
A professional doctorate
Conclusion
References
11. Critical Creativity in the Development of Clinical Nurse
Specialists' Practice
Liz Henderson
Introduction
Critical creativity: a new paradigm for PD
Developing expertise as a facilitator
Methodology and design
The developmental journey
Making use of care stories
Evaluating the impact of the programme
Conclusion
Acknowledgement
References
Section Three: Methods and Resources for Revealing Practice Expertise
12. Developing Expertise through Nurturing Professional Artistry in the Workplace
Angie Titchen
Introduction
Professional artistry dimensions
Creating the conditions
Concluding remarks
Acknowledgements
References
13. Revealing the Hidden Treasures of Practice Expertise
Sally Hardy
Principle methods for transformation
Qualitative 360º feedback
Recommendations
Recommendations
Using narratives (patient and staff stories)
Reflexivity (reflection into critically appraised action)
Conclusion
References
Additional resources for developing practice expertise
Section Four: Concluding Remarks
14. A Final Turn of the Kaleidoscope
Sally Hardy, Angie Titchen, Kim Manley and Brendan McCormack
Interrelated journeys
Index
Provides a framework for exploring and developing nursing expertise
Enables nurses to articulate their expertise and examine their own practice
Offers practical guidance on facilitating inquiry based practitioners
Draws on results of the RCN Expertise in Practice project
Written collaboratively by practitioners, practice developers and nurse academics