Reverse Mentoring: How Young Leaders Can Transform the Church and Why We Should Let Them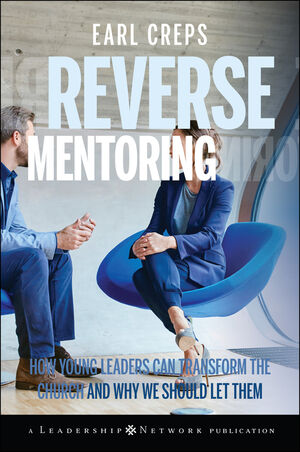 Reverse Mentoring: How Young Leaders Can Transform the Church and Why We Should Let Them
ISBN: 978-0-470-44332-3 October 2008 240 Pages
Description
Earl Creps is known for his work in connecting the younger generation of postmoderns with their Boomer predecessors. The author of Off-Road Disciplines, Creps, in this new book, takes up the topic of how older church leaders can learn from younger leaders who are more conversant with culture, technology, and social context. In addition to making the benefits of what he calls "reverse mentoring" apparent, he also makes it accessible by offering practical steps to implement this discipline at both personal and organizational levels, particularly in communication, evangelism, and leadership.

Creps' new book is a topic of interest both inside and outside the church as older leaders realize that they're not "getting it" when it comes to technologies (iPod, IM, blogging) or cultural issues such as the fact that younger people see the world in an entirely different way. Creps has been personally involved in reverse mentoring for several years and has spoken and written on the subject extensively. He has pastored three churches (one Boomer, one Builder, on X'er) and is currently a church planter in Berkeley, California. He has also served as a consultant and and a seminary professor and administrator, holding a PhD in Communication Studies and a D.Min. from the Assemblies of God Theological Seminary.
About Leadership Network.
Introduction: It Takes a Child to Raise a Village.
Part One: Facing Reality.
Chapter 1 Identity: "I Am Not Cool".
Chapter 2 Culture: "I Don't Get It".
Chapter 3 Ministry: "I Am Not Relevant".
Part Two: Cultivating Spirituality.
Chapter 4 Vision: Seeing Beyond Ourselves.
Chapter 5 Wisdom: Knowing Beyond Our Information.
Chapter 6 Relationship: Befriending Beyond Our Peers.
Part Three: Experiencing Practicality.
Chapter 7 Evangelism: Learning from Outsiders.
Chapter 8 Communication: Learning from Listeners.
Chapter 9 Leadership: Learning from Followers.
Part Four: Developing Reciprocity.
Chapter 10 Protégés: Developing R-Mentoring Relationships.
Chapter 11 Processes: Embedding R-Mentoring in Organizations.
Chapter 12 Interview: Joel and Rachel Mentor Earl and Janet.
Epilogue I Was So Much Older Then; I'm Younger Than That Now.
Notes.
Acknowledgments.
About the Author.
Index.
"Full of timely examples that can help keep ministry fresh and relevant." –
The Living Church
 (January 2009)
"I enjoyed reading Earl Creps' Off Road Disciplines, but I was enthralled by Reverse Mentoring….Through these extremely personal and detailed stories Creps gives the reader a window into the emerging world with all of its new language, technology, music, and quirkiness." –Easum-Bandy