Reversible Protein Acetylation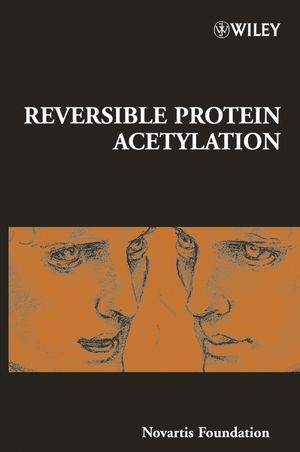 Reversible Protein Acetylation
ISBN: 978-0-470-86261-2 May 2004 310 Pages
Description
A comprehensive review of recent work on chromatin and non-histone proteins, this book arises from the interactions of a multidisciplinary group of scientists involved in the study of acetylation. This area of research opens up new and exciting possibilities for drug design, and so the final chapters in the book examine some of the potential applications in the treatment of various diseases.
Table of contents
Chair's Introduction (E. Verdin).
Beyond the double helix: writing and reading the histone code (Y. Wang, et al.).
The indexing potential of histone lysine methylation (G. Schotta, et al.)
A model for step-wise assembly of heterochromatin in yeast (D. Moazed, et al.).
H2B Ubiquitylation and deubiquitylation in gene activation (A. Wyce, et al.).
Structural and chemical basis of histone acetylation (R. Marmorstein).
Phosphorylation and acetylation of histone H3 at inducible genes: two controversies revisted (L. Mahadevan, et al.).
HDAC7 regulates apoptosis in developing thymocytes (E. Verdin, et al.).
Dual roles of histone deacetylases in the control of cardiac growth (T. McKinsey and E. Olson).
Chromatin modifications as clues to the regulation of antigen receptor assembly (D. Ciccone and M. Oettinger).
General discussion I Histone modifications in X inactivation.
The HDAC complex and cytoskeleton (J. Kovacs, et al.).
Tat acetylation: a regulatory switch between early and late phases in HIV transcription elongation (M. Ott, et al.).
Dynamics of the p53 acetylation pathway (W. Gu, et al.).
Regulation of the NF-kB action by reversible acetylation (W. Greene and L. Chen).
General discussion II p300 and DNA repair.
Reversal of gene silencing as a therapeutic target for cancer - roles for DNA methylation and interdigitation with chromatin (S. Baylin).
Transcription regulation by histone deacetylases (S. Wang, et al.).
Molecular and cellular basis for the anti-proliferative effects of the HDAC inhibitor LAQ824 (P. Atadja, et al.).
Histone deacetylase inhibitors: development as cancer therapy (P. Marks, et al.).
General discussion III PML-RAR hypermethylation in leukemia.
Index of Contributors.
Subject Index.