Reversing the Slide: A Strategic Guide to Turnarounds and Corporate Renewal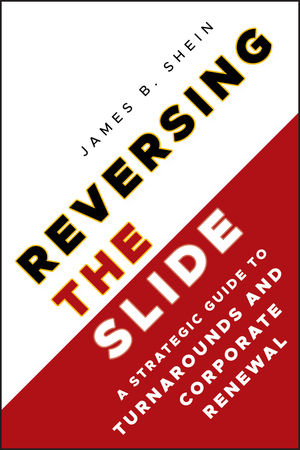 Reversing the Slide: A Strategic Guide to Turnarounds and Corporate Renewal
ISBN: 978-0-470-93324-4
Mar 2011, Jossey-Bass
384 pages
Description
A just-in-time guide for revamping distressed companies

Drawn from the author's decades of experience advising, purchasing, and reviving distressed companies across industries, geographies, and sizes, Reversing the Slide is designed to help executives, managers, and employees revitalize downtrodden companies. It shows how to: select the tactics appropriate for each stage of distress; understand the use of entrepreneurial concepts; avoid pitfalls common to turnarounds; determine the legal, financial, strategic, and operational steps in the process; discover why the principal of "ready, fire, aim" should guide the decision-making process in situations with time pressure and significant uncertainty; and uncover the secrets of effective leadership and governance.
Contains step-by-step instructions for helping troubled organizations bounce back with vigor
Often quoted in the Wall Street Journal, the author is an authority on restructuring and downsizing
Offers a handbook for implementing a successful corporate turnaround
James Shein's Reversing the Slide is full of insightful advice on what works, what does not, and why it will prove invaluable to executives, managers, and employees in helping troubled companies before it's too late.
Introduction: Conditions and Causes of Distress.
Box 1: Typical Covenants Tripped by Downturns.
1 The Stages of Decline and Early Warning Signs.
Box 2: The Effects of Financial Shenanigans.
2 The Turnaround Tripod.
3 Leadership in a Crisis.
Box 3: Governance and Leadership Issues in Family-Owned Businesses.
4 Cash Not GAAP.
5 Downsizing Is a Tool, Not a Goal.
Box 4: Other Legal Issues in Announcing Layoffs.
6 The Bankruptcy Process as Sword and Shield.
Box 5: State Laws.
Box 6: DIP Financing.
Box 7: Committee Formation.
Box 8: Plan Confirmation.
7 Managing International Turnarounds.
8 Turnarounds at (Intentionally) Nonprofit Organizations.
Box 9: Chapter 9 Bankruptcy.
9 Turning Duds into Dreams.
Box 10: Additional Issues in Valuing Distressed Companies.
Box 11: Fiduciary Duties of Directors in M&A Transactions.
10 A Different Fresh Start.
Notes.
Acknowledgments.
About the Author.
Index.