Reviews in Computational Chemistry, Volume 12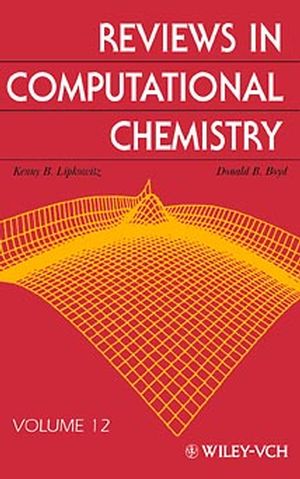 Reviews in Computational Chemistry, Volume 12
ISBN: 978-0-470-12616-5
Sep 2009
432 pages
Description
VOLUME 12: REVIEWS IN COMPUTATIONAL CHEMISTRY

Kenny B. Lipkowitz and Donald B. Boyd

HOW DOES ONE COMPUTE FREE ENERGY AND ENTROPY FROM MOLECULAR SIMULATIONS? WHAT HAPPENS WHEN SIMULATIONS ARE RUN WITH CONSTRAINTS? HOW SHOULD SIMULATIONS BE PERFORMED TO MODEL INTERFACIAL PHENOMENA? HOW IS DENSITY FUNCTIONAL THEORY USED TO SIMULATE MATERIALS? WHAT QUANTUM MECHANICAL METHODS SHOULD BE USED TO COMPUTE NONLINEAR OPTICAL PROPERTIES OF MATERIALS? WHICH PARAMETERS ARE MOST INFLUENTIAL IN A MOLECULAR SIMULATION? HOW CAN CRYSTAL STRUCTURES BE PREDICTED? TUTORIALS PROVIDING ANSWERS TO THESE QUESTIONS ARE THE FOCUS OF THIS BOOK.

FROM REVIEWS OF THE SERIES

"The series continues to be one of the most useful information sources."
—JOURNAL OF THE AMERICAN CHEMICAL SOCIETY
Calculation of the Free Energy and the Entropy of Macromolecular Systems by Computer Simulation (H. Meirovitch).

Molecular Dynamics with General Holonomic Constraints and Application to Internal Coordinate Constraints (R. Kutteh & T. Straatsma).

Computer Simulation of Water Physisorption at Metal-Water Interfaces (J. Shelley & D. Bérard).

Quantum-Based Analytic Interatomic Forces and Materials Simulation (D. Brenner, et al.).

Quantum Mechanical Methods for Predicting Nonlinear Optical Properties (H. Kurtz & D. Dudis).

Sensitivity Analysis in Biomolecular Simulation (C. Wong, et al.).

Computer Simulation to Predict Possible Crystal Polymorphs (P. Verwer & F. Leusen).

Computational Chemistry in France: A Historical Survey (J.-L Rivail & B. Maigret).

Indexes.
"Of interest to this reviewer were the chapters on biomolecular simulations and water calculations. In the chapter by Meirovitch, the difficulties encountered in obtaining the thermodynamic parameters of F (free energy) and S (entropy) are discussed, as well as these.)."  (J. Am. Chem. Soc., 1999)