Reviews in Religion & Theology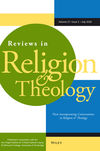 Reviews in Religion & Theology
Vol 24(4 Issues in 2017 )
Print ISSN: 1350-7303
Online ISSN: 1467-9418
Digital version available through Wiley Online Library
Description
Every year, the amount published in the area of theology and religious studies increases and diversifies. Reviews in Religion and Theology offers an accessible, informed and up-to-date guide to contemporary developments and publishing in religion and theology, providing a forum in which the latest publications are evaluated and discussed.
RRT aims to provide clearly written, constructive and prompt reviews of the vast range of publications in theology and religious studies, or that are of relevance to those interested in these fields (for example, in anthropology, cultural studies, history, literature or philosophy).
Each issue draws upon a range of contributors, some regular, some occasional. The bulk of the reviews in each issue are written by a team of 20-25 Regular Contributors, the vast majority of whom are young scholars and academics. Reviews draw upon the latest research in a wide variety of fields, from biblical studies to the study of the world's religions.
As part of your subscription to RRT, you will receive Conversations in Religion and Theology for free!