Revisiting Truth, Beauty,and Justice: Evaluating With Validity in the 21st Century: New Directions for Evaluation, Number 142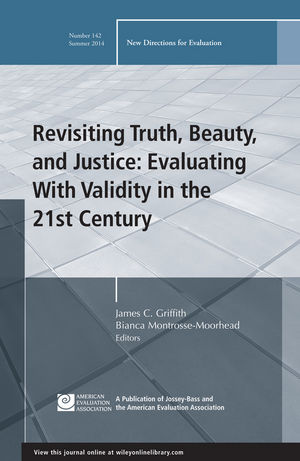 Revisiting Truth, Beauty,and Justice: Evaluating With Validity in the 21st Century: New Directions for Evaluation, Number 142
ISBN: 978-1-118-93035-9 June 2014 Jossey-Bass 120 Pages
Description
This issue discusses ways of constructing, organizing, and managing arguments for evaluation. Not focued solely on the logic of evaluation or predictive validity, it discusses the various elements needed to construct evaluation arguments that are compelling and influential by virtue of the truth, beauty, and justice they express. Through exposition, original research, critical reflection, and application to case examples, the authors present tools, perspectives, and guides to help evaluators navigate the complex contexts of evaluation in the 21st century.

This is the 142nd issue in the New Directions for Evaluation series from Jossey-Bass. It is an official publication of the American Evaluation Association.
Table of contents
EDITORS' NOTES 1
James C. Griffith, Bianca Montrosse-Moorhead
1. Origins of the Ideas in Evaluating with Validity 9
Ernest R. House
This chapter traces the origins of the ideas in the book Evaluating with Validity (House, 1980), the social context from which it emerged, and contends that the criteria of truth, beauty, and justice still apply, though the contents of the criteria have changed somewhat and the context has changed substantially.
2. The Value in Validity 17
James C. Griffith, Bianca Montrosse-Moorhead
Using two case examples, this chapter analyzes the inherent values and prioritization between truth, justice, and beauty and aims to help the evaluator confront the kinds of dilemmas faced when her commitment to values, evaluation theories, or methodology comes up against conflicting realities for a particular evaluation.
3. How "Beauty" Can Bring Truth and Justice to Life 31
E. Jane Davidson
This chapter flips House's idea on its head and argues that the process of creating a clear, compelling, and coherent (beautiful) evaluative story is the key to unlocking validity (truth) and fairness (justice).
4. Credible Judgment: Combining Truth, Beauty, and Justice 45
Marthe Hurteau, David D. Williams
Employing grounded theory methodology, this chapter summarizes research conducted on the production of credible judgments, presents a descriptive model of a process to produce credible evaluation judgments, and argues that the results provide evidence to support House's vision of validity.
5. Negotiating Truth, Beauty, and Justice: A Politically Responsive Approach 57
Tarek Azzam, Bret Levine
This chapter focuses on the nontechnical factors that affect the evaluation design and implementation process, discusses cases and studies to illustrate their influence, and concludes by introducing the concept of politically responsive evaluation as an organizing frame to help evaluators consider some of the nontechnical issues that
influence evaluations.
6. Truth, Beauty, and Justice: Conceptualizing House's Framework for Evaluation in Community-Based Settings 71
Katrina L. Bledsoe
Grounded in examples from the author's own evaluation practice, the goal of this chapter is to discuss House's theoretical framework of truth, beauty, and justice and its relationship to community-based evaluation and programming, as well as pose questions related to evaluation practice, validity, and social justice.
7. Justice Signposts in Evaluation Theory, Practice, and Policy 83
Rodney K. Hopson
Influenced by House's conceptions of justice from Evaluating with Validity (House, 1980), this chapter offers two justice signposts in contemporary evaluation theory, practice, and policy: (a) continue to expand the social justice or values branch of the evaluation theory tree and (b) promote evaluation as liberating and decolonizing for the marginalized and underrepresented.
8. House With a View: Validity and Evaluative Argument 95
Bianca Montrosse-Moorhead, James C. Griffith, Pamela Pokorny
Drawing upon a series of conversations between the issue editors and Ernest R. House, this chapter provides a summary and analysis of the contribution of each chapter in the issue and presents a vision for the future concerning the validity of evaluative arguments in practice and theory.
INDEX 107