Revolutionizing Workforce Performance: A Systems Approach to Mastery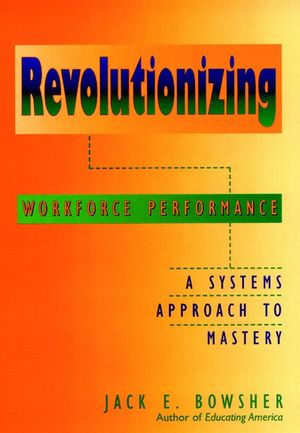 Revolutionizing Workforce Performance: A Systems Approach to Mastery
ISBN: 978-0-787-90798-3
Oct 1997, Pfeiffer
300 pages
Description
Improve performance at every level of your organization!Millions of employees and managers go to work every day without the proper training and support to do their jobs efficiently. To operate effectively and stay ahead of the competition, your organization must have a competitive and well-trained workforce. Jack Bowsher links all the pieces of a successful management system together into an easy six-step process. His innovative system integrates the best of OD, training, performance consulting, performance technology, and integrated electronic support systems. At an organization that achieves Bowsher's leaning "mastery,"everyone will be a top-level performer!Among other reforms, Bowsher proposes establishing a performance system within every major job category. In his book, Bowsher includes a special short "executive summary" that can be used to convince an organization's executives to implement all of these performance-boosting initiatives.By revolutionizing workforce performance you will:


* Increase productivity
* Lower operating expenses
* Increase revenues and market shares
* Eliminate the need for massive downsizings
Members of the training/performance community, HR managers, and senior executives--all of them need this explosive guide to create their own revolution in performance!
FROM MEDIOCRE TO SUPERIOR WORKFORCE PERFORMANCE.

Common Practices in a Workforce with Some Training.

Best Practices for a Competitive Workforce.

SYSTEMS APPROACH FOR WORKFORCE PERFORMANCE: FIRST STEPS.

Develop and Implement a Management System.

Appoint a Chief Training Officer.

Develop a Working Partnership for Key Jobs.

Enhance or Reengineer the Basic Processes.

Identify Performance Requirements of Key Jobs.

DESIGN A PERFORMANCE SYSTEM FOR KEY JOBS.

Design Personal-Development Tasks and a Performance-Based Curriculum.

Develop a Delivery-System Strategy.

Develop On-the-Job Training Assignments.

Develop Support Systems for Key Jobs.

Investigate Electronic Performance Support Systems.

Develop Reward and Recognition Programs.

Evaluate Job Performance.

Implement Measurements and Benchmarking.

HOW TO JUSTIFY A COMPETITIVE WORKFORCE.

Determine Cost of Poor Performance.

Use New Justification Methods.

REQUIRED LEADERSHIP FROM SENIOR EXECUTIVES.

Optimize the Organization and Staff Programs.

Decisions for Creating a Competitive Workforce.

Essential Messages for Executive Management.

References and Suggested Readings.
"This book is definitely about the right subjects, for the right audiences, and about the right issue--achieving breakthroughs in workforce performance. Senior executives should read this important document." (A. William Wiggenhorn, President, Motorola University)

"Senior executives must become involved with the lessons in this book to achieve breakthroughs in workforce performance. Their leadership will result in a sustainable competitive advantage." (Victor E. Millar, President and CEO, AT&T Solutions)

"Everyone talks about performance improvement. Jack Bowsher explains in this book how to make it happen within the entire organization. HR executives should take a leadership role." (Ursula F. Fairbairn, Executive Vice President, Human Resources and Quality, American Express Company)

"Bowsher challenges all of us to share in a new management system for achieving breakthroughs in workforce performance. This book is a must-read for members of the training and performance communities." (John W. Humphrey, CEO, The Forum Corporation, Chair of ASTD, Founder, Instructional Systems Association (ISA))

"Every major government agency at the city, state, and federal level should focus on breakthroughs in workforce performance. This book will help you to do just that." (Charles A. Bowsher, Retired Comptroller General of the United States)

"Every manager and director of training should read this book because it includes a management system that will enable chief training officers to have a working partnership with senior executives and additional funding for new performance systems." (Jerold V. Tucker, Chief Training Officer, GTE)

"This book will greatly influence the work of training and performance professionals as well as the companies that serve this industry. (John J. Splavec, Partner, Andersen Consulting)