Rice Biotechnology: Improving Yield, Stress Tolerance and Grain Quality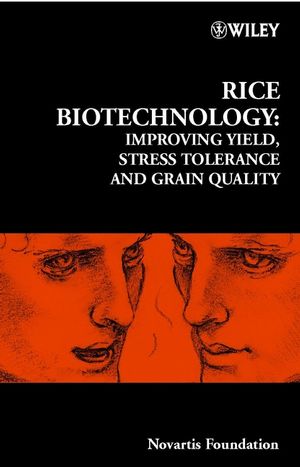 Rice Biotechnology: Improving Yield, Stress Tolerance and Grain Quality
ISBN: 978-0-470-51578-5 April 2008 272 Pages
Download Product Flyer
Download Product Flyer
Download Product Flyer is to download PDF in new tab. This is a dummy description. Download Product Flyer is to download PDF in new tab. This is a dummy description. Download Product Flyer is to download PDF in new tab. This is a dummy description. Download Product Flyer is to download PDF in new tab. This is a dummy description.
Description
Rice is the most important food crop for half the world's population. Over the last three decades, the imporvement in human nutrition and health in Asia has largely been attributable to a relatively stable and affordable rice supply. The challenge to produce enough rice for the future, however, remains daunting, as the current rate of population growth outpaces that of increases in rice production. Science has a central role to play in raising rice productivity and this book highlights areas of plant science that are particularly relevant to solving the major constraints on rice production. Examining molecular, genetic and cellular techniques, it considers recent advances in four research approaches for increasing yields and improving the nutritional quality of rice.
Plant genomics: knowing the identity and location of each gene in the rice genome is of immense value in all aspects of rice science and cultivar improvement.
Molecular biological approaches to increase yield: to produce more biomass by increasing photosynthetic rate and duration, and by improving grain filling.
Enhancing tolerance to biotic and abiotic stresses: with new DNA array technologies, it is now possible to assess global genomic response to stresses. Understanding the relationships among stress pathways may create new opportunities for gene manipulation to enhance tolerance to multiple biotic and abiotic stresses.
Improving nutritional quality in the grain: knowledge of the biosynthesis of micronutrients in plants permits genetic engineering of metabolic pathways to enhance the availability of micronutrients.
Table of contents
Opening Address: The Challenge to Feed the World's Poor (M.Hossain).

Chair's Introduction (G. Khush).

A Framework for Sequencing the Rice Genome (G. Presting, et al.).

Rice Genomics: Current Status of Genome Sequencing (T. Matsumoto).

Rice--The Pivotal Genome in Cereal Comparative Genetics (M. Gale,et al.).

Bioinformatics for Rice Resources (B. Sobral, et al.).

Regulation of Gene Expression by Small Molecules in Rice (S.Zhang, et al.).

Introduction of Genes Encoding C4 Photosynthesis Enzymes into RicePlants: Physiological Consequences (M. Ku, et al.).

Increasing Rice Photosynthesis by Manipulation of the Acclimationand Adaptation to Light (P. Horton, et al.).

Increasing Rice Productivity and Yield by Manipulation of StarchSynthesis (T. Okita, et al.).

Genetic Analysis of Plant Disease Resistance Pathways (J. Parker,et al.).

Regulation of Systemic Acquired Resistance by NPR1 and itsPartners (X. Dong, et al.).

Improving Plant Drought, Salt and Freezing Tolerance by GeneTransfer of a Single Stress-inducible Transcription Factor (K.Yamaguchi-Shinozaki & K. Shinozaki).

Dissection of Defence Response Pathways in Rice (J. Leach, etal.).

Breeding for Nutritional Characteristics in Cereals (R. Graham& G. Gregorio).

Biosynthesis of beta-Carotene (Provitamin A) in Rice EndospermAchieved by Genetic Engineering (S. Al-Babili, et al.).

Developing Transgenic Grains with Improved Oils, Proteins andCarbohydrates (B. Mazur).

Summing-Up: Cutting -Edge Science for RiceImprovement--Breakthroughs and Beneficiaries (J. Bennett).

Index of Contributors.

Subject Index.
Reviews
"The 16 papers cover four research approaches to altering rice genetically: plant genomics, molecular biological, enhancing tolerance to biotic and abiotic stresses, and improving nutritional quality in the grain." (SciTech Book News, Vol. 25, No. 3, September 2001)