Rich is a Religion: Breaking the Timeless Code to Wealth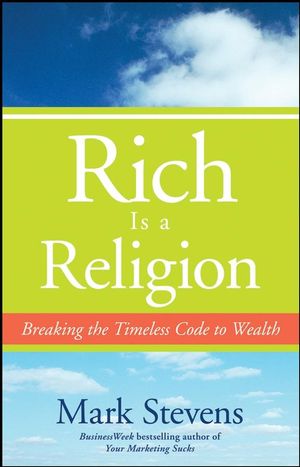 Rich is a Religion: Breaking the Timeless Code to Wealth
ISBN: 978-0-470-44740-6
Nov 2008
192 pages
Product not available for purchase
Description
If you're stressed about your financial future, stuck at a job that you hate, or feel trapped by your income, Rich Is a Religion is a road map that will help you transform your life. By showing you the mindset of millionaires and billionaires, you'll learn how to make more money than you ever thought possible and how to preserve this money for your entire life. With the insights found here, you'll quickly discover how to create a solid financial base and channel your money to maximize the gift of life.
Acknowledgments.
First, A Foundation and a Firewall.
Chapter 1: The Epiphany.
Chapter 2: The Vision.
Chapter 3: The Invisible.
Chapter 4: Fairy Tale Finance.
Chapter 5: The Congregation.
Chapter 6: The Atheists of the Religion of the Rich.
Chapter 7: The Paradoxical Secret.
Chapter 8: The Real Value.
Chapter 9: The Metamorphosis.
Epilogue: Dividing Day.
Appendix: The Unconventional Wisdom of the Religion of the Rich: A Collection of Blogs.
About the Author.
""The book is interesting, loaded as it is with stories that illustrate his points. It is easy to understand for even infrequent visitors to the world of finance (moi)."" (Blogcritics.org)