Richard Rorty: Critical Dialogues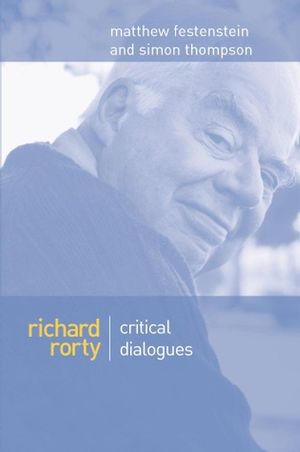 Richard Rorty: Critical Dialogues
ISBN: 978-0-745-62166-1 November 2001 Polity 256 Pages
Description
Richard Rorty is one of the most influential and provocative figures in contemporary intellectual life. He argues that many of philosophy's traditional concerns are redundant, and that the goal of inquiry should not be truth but human betterment. In this collection a distinguished team of scholars grapples with the implications of his writings for social and political thought. Avoiding mindless adulation or ritual denunciation, they offer careful but critical investigations of the meaning of Rorty's work for a range of important issues.
Topics explored include anti-foundationalism; irony and commitment; justice; liberalism and utopianism; reason and aesthetics; humanism and anti-humanism; the Holocaust; the theory of international relations; social democracy and the pragmatist tradition. Each essay is followed by a reply written for this volume by Rorty. The volume also includes a substantial essay by Rorty on 'Justice as a Larger Loyalty'.

This volume is indispensable for any reader interested in Rorty's work, or in contemporary debates in social, political or ethical theory. Contributors: Molly Cochran; Daniel Conway; Matthew Festenstein; Norman Geras; John Horton; David Owen; Richard Rorty; Kate Soper; Simon Thompson.
Table of contents
List of contributors.
Acknowledgements.
1. Richard Rorty: Pragmatism, Irony and Liberalism: Matthew Festenstein.
2. Irony and Commitment: An Irreconcilable Dualism of Modernity: John Horton.
Reply to John Horton: Richard Rorty.
3.Richard Rorty on Truth, Justification, and Justice: Simon Thompson.
Reply to Simon Thompson: Richard Rorty.
4. Irony, State and Utopia: Daniel Conway.
Reply to Daniel Conway: Richard Rorty.
5. The Avoidance of Cruelty: Richard Rorty on Liberalism, Scepticism and Ironism: David Owen.
Reply to David Owen: Richard Rorty.
6. Richard Rorty: Humanist and/or Anti-Humanist? Kate Soper.
Reply to Kate Soper: Richard Rorty.
7.Reason and Aesthetics Between Modernity and Postmodernity: Habermas and Rorty: Richard Shusterman.
Reply to Richard Shusterman: Richard Rorty.
8. Progress Without Foundations? Norman Geras.
Reply to Norman Geras: Richard Rorty.
9. Rorty's Neo-Pragmatism: Some Implications for International Relations Theory: Molly Cochran.
Reply to Molly Cochran: Richard Rorty.
10. Pragmatism, Social Democracy, and Political Argument: Matthew Festenstein.
Reply to Matthew Festenstein: Richard Rorty.
11. Justice as a Larger Loyalty: Richard Rorty.
Index
Reviews
'This volume is a cut above the rest since it finds Rorty's critics and commentators on excellent form and Rorty himself rising to the challenge with far more vigour and passion than he has often been able to muster in recent years. The editors have done a good job in keeping the focus steadily on social, political, and ethico-juridical issues and thereby giving the book a distinctive profile. They have also exercised shrewd judgement in assembling a well-qualified team of contributors whose attitudes range from outspoken opposition, through varying degrees of critical reserve, to qualified endorsement of Rorty's thinking on a number of central issues. This in turn has provoked Rorty to offer a series of thoughtful, extended and sometimes quite combative (even prickly) rejoinders which tell us far more about the scope and limits of his 'North-Atlantic postmodern bourgeois-liberal pragmatist' outlook than previous such encounters. This book should do much to extend and refine the terms of a debate around Rorty's work that has too often become just a pretext for the exchange of routine hostilities.' C
hristopher Norris, University of Cardiff, Wales
"[The book] is an example of first-rate critisism...This collection serves as a very good introduction to Rorty's work in these areas of philosophy. Further, the dialogical character of this collection makes it valuable for those who seek a refined understanding of Rorty's views." David F. Dudrick, Philosophy in Review
Features


A recent critical evaluation of the work of Richard Rorty


A unique set of responses directly from Rorty


Written and a clear and accessible way