Rick Sammon's HDR Secrets for Digital Photographers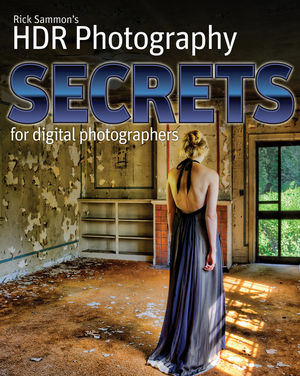 Rick Sammon's HDR Secrets for Digital Photographers
ISBN: 978-1-118-07624-8 February 2011 224 Pages
Description
Top photographer Rick Sammon shares his greatest HDR tips and tricks
High Dynamic Range (HDR) photography is a process in which a photographer shoots multiple shots of the same subject at varying exposure settings and then "stitches" the images together with photo-editing software into a single photo that presents sharper color and focus than a single image. World-renowned digital photographer and Canon Explorer of Light Rick Sammon reveals his most amazing HDR tips, tricks, and techniques for creating the best possible HDR images.
Packed with more than 150 of Sammon's stunning full-color photos and more than 200 techniques, this invaluable guide inspires and motivates you to capture and edit your own unique still-life images.
World-renowned digital photographer and Canon Explore of Light Rick Sammon reveals a wealth of unparalleled High Dynamic Range (HDR) tips, tricks, and techniques
Inspires both amateur and experienced photographers to boost their creativity, and improve the quality of their images in the digital darkroom
Features more than 150 beautiful images from Sammon's own portfolio as well as more than 200 tips and tricks for shooting and editing HDR images
HDR Secrets for Digital Photographers unveils an abundance of tips and tricks that will help you make your good HDR photos great.
About the Author.
Thank You.
Preface: A Walk Before the Run: Basic Photography Tips.
Make Photographs.
Tell a Story.
Consider the Background.
Th e Name of the Game is to Fill the Frame.
Check Your Camera Settings.
Choose Your Lens Wisely.
Interesting Subjects Make Interesting Photographs.
See the Light.
Create a Sense of Depth.
Move It.
Take a Walk.
Compose Carefully.
Before HDR.
Extreme HDR.
About this Book.
About the Layout.
A New Way of Seeing.
Don't Overdo It.
About the Pictures in the Book.
Th e Impact of Subject.
It's Photography!
Adventure Awaits.
Introduction: Welcome to the Magical World of HDR Photography.
Bracketing is the Starting Point of HDR.
Creating an Effectiveand Impressive HDR Image.
Seeing Into the Shadows.
Try HDR Even You Don't Think You Need It.
High Depth Range Images.
Highly Do-it-Yourself Rockin' Images.
Pseudo HDR Images & HDR-like Images.
Realistic or Artistic.
Envision the End Result.
Composing in a New Way.
Life After HDR in Photoshop.
Part I: To HDR or Not HDR … That is the Question.
No Substitute for Good Light.
RAW Files are Packed with Data.
When HDR Rules.
More Exposures Mean More Data.
HDR Is Not a Magic Fix.
Th e Right Light for the Situation.
Strong Light Might Be the Right Light.
Soft Light is Sometimes Right, Too.
Always Be Prepared for HDR Photography.
Part II: Must-Know Info.
See the Light & Determine Bracketing.
Too Few and Too Many Shots.
Spot Metering Can Help.
What Your Eyes See vs. What Your Camera Sees.
Check Your LCD Monitor.
Auto vs. Manual Bracketing.
Look for Highlights and Shadows.
Careful Bracketing Pays Off.
Part III: Photomatix: The Most Popular HDR Program.
Getting Started.
Generate HDR: RAW vs. JPEG.
Don't Panic.
Taking Control of Your Image.
Tone Compressor for Realistic Images.
Tone Compressor Adjustments.
Details Enhancer for Artistic Images.
Detail Enhancer Adjustments.
Watch the White Point and Light Mode/Smoothing.
Suitable for Framing.
Th e Subject Oft en Dictates the Effect.
Part IV: Single File Pseudo HDR Images with Photomatix.
Contrast is the Determining Factor.
Starting Point.
Diff erent Options.
Better Safe than Sorry.
JPEG to HDR?
Movement Can Be Okay.
Two-Image HDR Images.
Pseudo HDR Images.
Aperture Must Remain Constant.
Carefully Focus; Manually Focus.
Reduce Digital Noise.
Check for Chromatic Aberrations.
Steady Your Camera and Try Not to Touch.
Hand-Held Images Can Work.
Basics are Essential.
dSLR vs Compact Camera.
Sharpen your HDR Images.
HDR vs. RAW File Processing.
Faster with Photomatix.
HDR File Management Suggestion.
Separate Your Shots.
Part V: Exposure Fusion with Photomatix.
Launching Exposure Fusion.
Adjusting Your Images: Highlights & Shadows Adjust.
Adjusting Your Image Part II.
Exposure Fusion with Help from Photoshop.
True HDR with Help from Photoshop.
Look Closely and Carefully.
Part VI: Enter Topaz Adjust.
Topaz Command Center.
Improving an Image.
Dramatic Diff erences.
Subtle Diff erences.
Add Drama to a Landscape.
With a Little Help from Photoshop.
Th e Beauty is in the Details.
Awaken the Artist Within.
Highly Dramatic Color.
Creating Color.
Apply Topaz Adjust Selectively.
Th e Soft er Side of Topaz Adjust.
Expect Surprises.
Part VII: Photomatix Meets Topaz Adjust.
Topaz Adjust: Details and Spicify.
Topaz Adjust: Portrait Drama and Spicify with Noise Greatly Reduced.
Topaz Adjust: Exposure Correction.
Topaz Adjust: Exposure Correction with Saturation Reduced.
Topaz Adjust: Portrait Smooth.
Part VIII: Expanding Dynamic Range in Photoshop.
Adjustment Layers are the Law.
Basic Adjustments, Big Improvement.
Photoshop vs. Photomatix Pseudo HDR vs. Topaz Adjust.
Part X: The Lucis Pro Approach.
First Look: Lucis Pro Adjustment Window.
Split the Channels and Work in Black and White.
Check Before You Click.
Lucis Pro Meets Lucis Art.
Lucis Pro vs. Photomatix Pseudo HDR.
Part XI: Creating HDRs from Fast-Moving Subject Photographs.
Birds in Flight at Bosque de Apache, New Mexico.
Native American Action Shot.
Kenya Migration.
Pelican Coming in for a Landing.
Lion Love Bite.
Part IX: Expanding Dynamic Range in Adobe Camera RAW.
Exposing for the Highlights.
ACR Preview Window and Basic Tab.
ACR vs. Photomatix.
Recovery and Fill Light to the Rescue.
Avoid Photo Washouts.
Part XII: Shooting HDR Panoramas.
Basic HDR Process Multiplied.
Standard Photomatix HDR Processing.
Let the Pano Fun Begin.
Photomerge Magic.
HDR Pano vs. Traditional HDR.
Manual Exposure vs. Automatic Exposure.
Th e Fun and Creativity Continue.
Part XIII: Converting HDRs to B&W.
Silver Efex Pro Overview.
Nik Silver Efex Pro: Neutral.
Nik Silver Efex Pro: Neutral.
Nik Silver Efex Pro: Underexposed -1.
Nik Silver Efex Pro: Antique Plate 1.
Nik Silver Efex Pro: Neutral, Yellow Filter.
Nik Silver Efex Neutral.
Part XIV: My HDR Gear: The Stuff of Magical Imagery.
Cameras, Lenses and Tripods.
In-the-Field Gear.
HDR Rocks!
Part XV: Cool Web Sites.
True HDR Plug-in Sites.
Favorite Plug-in Sites.
My Web Site.
Rick's Digital Learning Center.
Digital Photo Experience.
Plug-In Experience.
Stuck in Customs.
Post Script: Learn by Questioning.
More Before HDR Images.
Look Ma! No Details Lost.
Index.