Ridley's The Vulva, 3rd Edition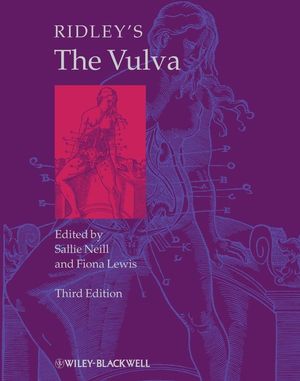 Ridley's The Vulva, 3rd Edition
ISBN: 978-1-405-16813-7
Jun 2009, Wiley-Blackwell
272 pages
Description
Bridging the gap between dermatology and gynaecology in the study of vulval diseases, this new edition is an exceptional reference text, offering the most up-to-date guidance on diagnosis and management.

The last 10 years have seen an enormous increase in interest in genital skin disease along with a much needed expansion in the number of clinics dedicated to the diagnosis and treatment of vulval disorders. This new third edition of Marjorie Ridley's The Vulva contains all the topics covered in the original book, but now includes the many advances that have been made since the last publication.

Now entitled Ridley's The Vulva, this is a comprehensive textbook that specialises in the diagnosis and management of this wide-ranging area.  Many chapters have been extensively revised, and illustrations are all now in full colour, significantly enhancing some of the detail of both the clinical and histological appearances.
Contributors.
Preface to the third edition.
Preface to the second edition.
Chapter 1: Basics of vulval embryology, anatomy and physiology (S.M. Neill & F.M. Lewis).
Chapter 2: Principles of examination, investigation and treatment (F.M. Lewis & S.M. Neill).
Chapter 3: Sexually transmitted diseases of the vulva (N.C. Nwokolo & S.E. Barton).
Chapter 4: Non-sexually transmitted infections of the vulva (F.M. Lewis & S.M. Neill).
Chapter 5: Non-infective cutaneous conditions of the vulva (S.M. Neill & F.M. Lewis).
Chapter 6: Vulvodynia (F.M. Lewis & S.M. Neill).
Chapter 7: Psychological and psychiatric aspects of vulval disorders (E.R.L.Williams & J. Catalán).
Chapter 8: Cysts and epithelial neoplasms of the vulva (G.W. Spiegel & E. Calonje).
Chapter 9: Non-epithelial tumours of the vulva (E. Calonje & G.W. Spiegel).
Chapter 10: Surgical procedures in benign vulval disease (B.J. Paniel & R. Rouzier).
Chapter 11: Management of vulval cancers (R. Rouzier & B.J. Paniel).


Meets the need from the growing number of vulva clinics

Specialises in the diagnosis and management of this wide-ranging area, with full colour pictures and world class authors

Bridges the gaps between dermatology and gynaecology in the study of vulval diseases