Rights and Wrongs: How Children and Young Adults Evaluate the World: New Directions for Child and Adolescent Development, Number 89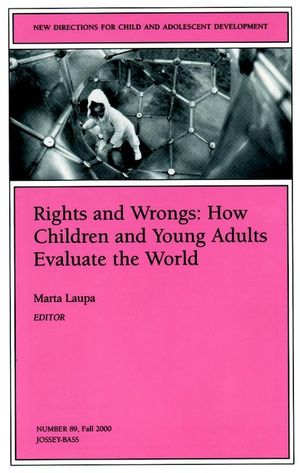 Rights and Wrongs: How Children and Young Adults Evaluate the World: New Directions for Child and Adolescent Development, Number 89
ISBN: 978-0-787-91256-7
Oct 2000, Jossey-Bass
112 pages
Description
This issue focuses on the way children and young adults understand and form judgements of right and wrong and examines the ways these judgements are independent yet coordinated. Authors address the formation of judgements of right and wrong within and across different domains of knowledge as well as interrelations or coordinations across judgements of different types. They present research on judgements of truth and how children distinguish domains of truth. They examine how children judge moral and mathematical rights and wrongs and coordinate them with concepts of authority. They also discuss children's distinction between what is held to be factually true and morally right as well as how they make judgements about moral worthiness and moral obligation. By drawing on distinctions both psychological, and epistemological, between social and nonsocial knowledge as well as between different domains of reasoning within each area, this issue offers great insight into children's and adolescents' understanding of rights and wrongs. This is the 89th issue of the quarterly journal New Directions for Child and Adolescent Development.
1. Children's Thinking About Truth: A Parallel to Social Domain Judgements (Charles W. Kalish).
2. Similarities and Differences in Children's Reasoning About Morality and Mathematics (Marta Laupa).
3. Values and Truths: The Making and Judging of Moral Decisions (Cecilia Wainryb).
4. The Aretaic Domain and Its Relation to the Decontic Domain in Moral Reasoning (Orlando Lourenco).
5. Distinguishing Necessary and Contingent Knowledge (Joe Becker).
6. 'Is' and 'Ought,' Fact and Value: A Relational Developmental Perspective (Willis F. Overton).