Rigorous Magic: Communication Ideas and their Application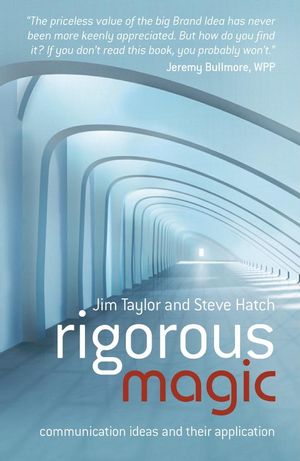 Rigorous Magic: Communication Ideas and their Application
ISBN: 978-0-470-68741-3 August 2009 304 Pages
Description
In the marketing world, communication ideas are revered for their magical ability to affect how consumers behave towards brands. Despite this, they are poorly understood. How many types are there? What are their characteristics? How should you use them? And what makes a good one? Most marketers simply cannot answer these questions.

Rigorous Magic answers these questions, bringing science to the art of ideas. Jim Taylor and Steve Hatch dispel the myths around communication ideas and create a practical 'road map' for marketers to select which types are best for their brand to compete. Only through a rigorous process of cataloguing and evaluation can ideas truly be understood - and the right ones selected to change consumer behaviour in today's global, multi-channel marketing world.

 
FOREWORD.
PREFACE.
ACKNOWLEDGEMENTS.
1 THE HEART OF THE MATTER.
2 THE EVOLUTION OF MAGIC.
3 WITH AN EYE TO EXECUTION.
4 WITH AN EYE ON THE CONTEXTUAL.
5 WITH AN EYE TO STRATEGY.
6 BEYOND STRATEGIC VS EXECUTIONAL.
7 INVENTING A BRAND: THE 'KR BAR'.
8 COMMUNICATION COMBINATIONS.
9 KNOWING YOUR 'HOCOS'.
10 GENERATING IDEAS.
11 JUDGING BRAND IDEAS: TROUT OR TROLLEY?
EPILOGUE THE ERA OF RIGOROUS MAGIC.
APPENDIX SUMMARY: DEFINITIONS OF THE TYPES OF IDEAS.
REFERENCES.
INDEX.
""...useful for students of marketing and communication and those seeking to learn to implement communication idea in to practise.""  (Gulf Business, Vol. 12/ Issue 7)