River, Coastal and Shoreline Protection: Erosion Control Using Riprap and Armourstone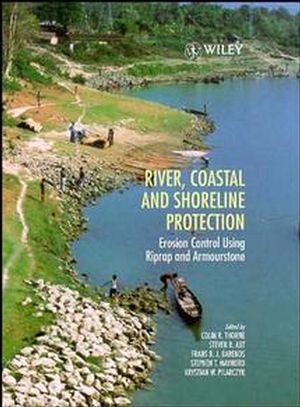 River, Coastal and Shoreline Protection: Erosion Control Using Riprap and Armourstone
ISBN: 978-0-471-94235-1 July 1995 784 Pages
Description
RIPRAP is a widely used engineering method for protecting river banks and coastlines from erosion. This book studies the fundamental issues and problems concerned with various aspects of this method of erosion control.
Table of contents
Partial table of contents:

CURRENT AND WAVE-INDUCED FORCES IN RIVER CHANNELS.

Simplified Unification of Stability Formulae for Revetments UnderCurrent and Wave Attack (K. Pilarczyk).

Boundary Stress and Stability of Riprap at Bridge Piers (A.Parola).

CURRENT AND WAVE-INDUCED FORCES ALONG COASTS.

A Review of Stability Formulas for Rock and Riprap Slopes UnderWave Attack (J. van der Meer).

Risk Analysis of Closure Design: A Case Study (F.Heezen).GEOTECHNICAL ASPECTS OF STABILITY.

Retrogressive Failures in Sand Deposits of the Mississippi River(V. Torrey).

PROPERTIES OF MATERIALS.

Quarry-Based Design of Rock Structures (W. Leeuwestein, etal.).

Problems and Improvements of Armor Stone Quality for CoastalStructures (D. Marcus).

ENVIRONMENTAL ASPECTS.

Rock Size Affects Juvenile Salmonid Use of Streambank Riprap (D.Lister, et al.).

CONSTRUCTION AND MAINTENANCE.

(The Maintenance of Hydraulic Rock Structures (J. Vrijling, etal.).

PRACTICAL EXPERIENCE.

Principles of Stone Stability and the Probability of Armour LayerBreak in Riprap Structures (K. Duskaev).

Index.