Roadmaps and Revelations: Finding the Road to Business Success on Route 101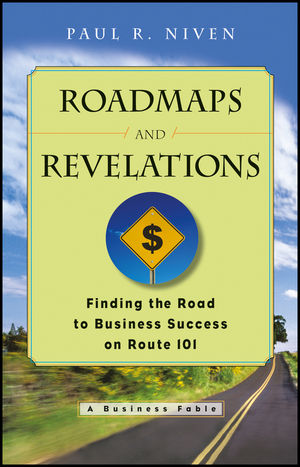 Roadmaps and Revelations: Finding the Road to Business Success on Route 101
ISBN: 978-0-470-18001-3
Apr 2009
222 pages
Product not available for purchase
Description
Rory Newman's company is going through big changes—the kind no one likes—having been bought by a global competitor that is now shaking things up. His new boss's first order of business is to demand that Rory come up with a new process for strategic planning to guide the company as it struggles to reinvent itself in the marketplace.

Up until now, the company's "strategic plans" were made up of visions in the former CEO's mind. Now, Rory's got five short days to develop, formalize, and deliver a winning strategic planning process. Rory planned to use a leisurely drive down the 101, en route to his wife's family reunion, to gather his thoughts, but things change when he halfheartedly agrees to pick up his wife's second cousin Sydney Wise from the airport. To his astonishment, Sydney turns out to be—instead of another maddening relative—a strategic planning guru, entrepreneur—and Rory's rescuer.

Discover, along with Rory and Sydney, what strategic planning is really about, why it is important, and how to develop a simple yet powerful strategy your company can use to set it on the course to success. Through Rory's experience, you will find out why strategic planning is not something left to the "higher ups," but something in which everyone in an organization needs to be invested.

Roadmaps and Revelations: Finding the Road to Business Success on Route 101 uses an entertaining storyline to walk you through the daunting process of creating a successful strategy. Sprinkled with practical examples and workable solutions for business executives, managers, and consultants, this motivating fable will put you on track toward creating a strategy for sustainable success.
Introduction vii
1 Emergency Meeting 1
2 The Challenge 3
3 Change of Plans 11
4 The Red Zone Is for Immediate Loading and Unloading Only 19
5 Who Is this Guy? 25
6 What Is Strategy, Anyway? 35
7 Ask a Silly Question 41
8 What You See Is Not Always What You Get 47
9 Getting to the Core 61
10 Think Fast 73
11 A Push in the Right Direction 77
12 One Night at the Vine View Manor 89
13 Pucker Up 95
14 Charged Up in Pismo Beach 109
15 You Know What Nietzsche Said about Groups 123
16 Two Thumbs Up 133
17 Sandy Resolutions 145
18 "KISSin" Cousins 155
19 Every Dog Has His Day 163
20 The Reunion 173
Roadmap Strategy Process and Model Summary 185
Roadmap Strategy Online 215
References 217