Robot Grippers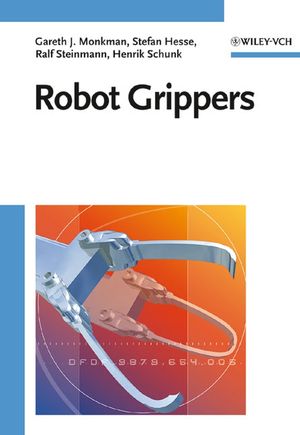 Robot Grippers
ISBN: 978-3-527-40619-7
Dec 2006
463 pages
Description
Since robotic prehension is widely used in all sectors of manufacturing industry, this book fills the need for a comprehensive, up-to-date treatment of the topic. As such, this is the first text to address both developers and users, dealing as it does with the function, design and use of industrial robot grippers. The book includes both traditional methods and many more recent developments such as micro grippers for the optolectronics industry. Written by authors from academia, industry and consulting, it begins by covering the four basic categories of robotic prehension before expanding into sections dealing with endeffector design and control, robotic manipulation and kinematics. Later chapters go on to describe how these various gripping techniques can be used for a common industrial aim, with details of related topics such as: kinematics, part separation, sensors, tool excahnge and compliance. The whole is rounded off with specific examples and case studies. With more than 570 figures, this practical book is all set to become the standard for advanced students, researchers and manufacturing engineers, as well as designers and project managers seeking practical descriptions of robot endeffectors and their applications.
Buy Both and Save 25%!
Original Price:$532.00
Purchased together:$399.00
save $133.00
Cannot be combined with any other offers.
Preface V
1 Introduction to Prehension Technology 1
1.1 Grippers for Mechanization and Automation 1
1.2 Definitions and Conceptual Basics 2
1.3 Grasping in Natural Systems 10
1.4 Historical Overview of Technical Hands 14
2 Automatic Prehension 19
2.1 Active Pair MatingPair Mating 19
2.2 Strategy and Procedures 27
2.2.1 Prehension Strategy 27
2.2.2 Gripping Procedure, Conditions and Force 36
2.2.3 Gripper Flexibility 59
2.3 Gripper Classification 61
2.4 Requirements and Gripper Characteristics 63
2.5 Planning and Selection of Grippers 67
3 Impactive Mechanical Grippers 75
3.1 Gripper DrivesDrives 75
3.1.1 Electromechanical Drives 78
3.1.2 Pneumatic Drives 84
3.1.3 Electrostrictive and Piezoelectric Actuation 92
3.2 Design of Impactive Grippers 94
3.2.1 Systematics and Kinematics 94
3.2.1.1 Parallel Impactive Grippers 101
3.2.2 Angular Impactive Grippers 122
3.2.3 Radial Impactive Grippers (Centring Grippers) 131
3.2.4 Internal Grippers 132
3.2.5 Gripper with Self-blocking Capability 135
3.2.6 Rotatable Jaw Grippers 137
3.2.7 Gripper Finger and Jaw Design 138
3.2.8 Self Securing Grippers 142
3.2.8.1 Securing Through Spring Forces 142
3.2.8.2 Securing Through Object Mass 146
3.2.9 Three-finger Grippers 153
3.2.10 Four-finger Grippers and Four-point Prehension 157
4 Ingressive Grippers 161
4.1 Flexible Materials 161
4.1.1 Pinch Mechanisms 162
4.1.2 Intrusive Mechanisms 163
4.1.3 Non-Intrusive Mechanisms 166
5 Astrictive Prehension 169
5.1 Vacuum Suction 169
5.1.1 Vacuum Production 170
5.1.2 Vacuum Suckers 176
5.1.3 Passive Suction Caps 199
5.1.4 Air Jet Grippers 202
5.2 Magnetoadhesion 204
5.2.1 Permanent Magnet Grippers 204
5.2.2 Electromagnetic Grippers 207
5.2.3 Hybrid Electromagnetic Grippers 215
5.4 Electroadhesion 216
5.4.1 Electroadhesive Prehension of Electrical Conductors 216
5.4.2 Electroadhesive Prehension of Electrical Insulators 220
6 Contigutive Prehension 227
6.1 Chemoadhesion 227
6.2 Thermoadhesion 232
7 Miniature Grippers and Microgrippers 237
7.1 Impactive Microgrippers 238
7.1.1 Electromechanically Driven Impactive Microgrippers 238
7.1.2 Thermally Driven Impactive Microgrippers 240
7.1.3 Electrostatically Driven Impactive Microgrippers 245
7.2 Astrictive Microgrippers 248
7.2.1 Vacuum Microgrippers 248
7.2.2 Electroadhesive Microgrippers 249
7.3 Contigutive Microgrippers 250
8 Special Designs 253
8.1 Clasping (Embracing) Grippers 253
8.2 Anthropomorphic Grippers 257
8.2.1 Jointed finger Grippers 258
8.2.2 Jointless Finger Grippers 264
8.3 Dextrous Hands 268
9 Hand Axes and Kinematics 279
9.1 Kinematic Necessities and Design 280
9.2 Rotary and Pivot Units 285
10 Separation 291
10.1 Separation of Randomly Mixed Materials 291
10.2 Separation of Rigid Three Dimensional Objects 292
10.3 Separation of Rigid Sheet Materials 292
10.3.1 Gripping of Thin Blanks from a Magazine 292
10.3.2 Air Flow Grippers 295
10.4 Separation of Non-Rigid Sheet Materials 298
10.4.1 Roller Grippers 301
11 Instrumentation and Control 309
11.1 Gripper Sensor Technology 309
11.2 Perception Types 309
11.2.1 Tactile Sensors 310
11.2.2 Proximity Sensors 313
11.2.3 Measurement sensors 317
11.2.4 Finger Position Measurement 323
11.2.5 Measuring Procedures in the Gripper 324
11.3 Sensory Integration 326
11.3.1 Discrete and Continuous Sensing 327
11.3.2 Software and Hardware Interrupts 328
11.3.3 Sensor FusionSensor Fusion 328
11.4 Gripper Control 328
11.4.1 Control of Pneumatically Driven Grippers 329
11.4.2 Control of Electrically Driven Grippers 331
12 Tool Exchange and Reconfigurability 333
12.1 Multiple Grippers 333
12.1.1 Double and Multiple Grippers 333
12.1.2 Multiple Gripper Transfer Rails 336
12.1.3 Turrets 338
12.2 Specialized Grippers 342
12.2.1 Composite Grippers 342
12.2.2 Reconfigurable Grippers 344
12.2.3 Modular Gripper Systems 345
12.3 Gripper Exchange Systems 348
12.3.1 Tool Exchange 348
12.3.2 Task, Functions and Coupling Elements 350
12.3.3 Joining Techniques and Process Media Connection 353
12.3.4 Manual Exchange Systems 354
12.3.5 Automatic Exchange Systems 358
12.3.6 Finger Exchange Systems 362
12.4 Integrated Processing 363
13 Compliance 367
13.1 Remote Centre Compliance (RCC) 368
13.2 Instrumented Remote Centre Compliance (IRCC) 372
13.3 Near Collet Compliance (NCC) 374
13.4 Parts Feeding 375
13.5 Mechanical Compliance 377
13.6 Pneumatic Compliance 383
13.6.1 Internal Prehension Through Membrane Expansion 384
13.6.2 External Prehension Through Membrane Expansion 387
13.7 Shape Adaptive Grippers 391
13.7.1 Partially Ccompliant Shape Adaptive Grippers 391
13.7.2 Totally Compliant Shape Adaptive Grippers 393
13.8 Collision Protection and Safety 396
13.8.1 Safety Requirements 396
13.8.2 Collision Protection Systems 396
13.8.3 Failure Safety 397
14 Selected Case Studies 401
14.1 Simple Telemanipulation 401
14.2 Grippers for Sheet and Plate Components 405
14.2.1 Impactive Grippers for Sheet Metal Handling 406
14.2.2 Astrictive Grippers for Sheet Metal 409
14.2.3 Astrictive Grippers for Glass Sheet 412
14.2.4 Astrictive Grippers for Composite Material Handling 412
14.3 Prehension of Cuboid Objects 413
14.4 Prehension of Cylindrical Objects 417
14.4.1 Serial Prehension of Tubes 418
14.4.2 Prehension of Wound Coils 419
14.4.3 Prehension of Slit Coils 420
14.5 Prehension of Objects with Irregular Topology 420
14.5.1 Handling of Castings 420
14.5.2 Mounting of Dashboards for Automobiles 421
14.5.3 Prehension of Water Pumps 422
14.5.4 Astrictive Prehension of Irregular Surfaces 422
14.6 Multiple Object Prehension 423
14.6.1 Packaging of Candies 424
14.6.2 Bottle Palletization 425
14.6.3 Multiple Irregular Shaped Objects 425
14.7 Prehension of Flexible Objects 426
14.7.1 Bag and Sack Grippers 426
14.7.2 Gripping and Mounting of Outside O-rings 428
14.8 Medical Applications 430
References 433
Subject Index 443