Rock Weathering and Landform Evolution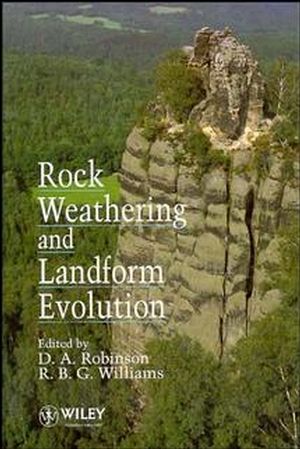 Rock Weathering and Landform Evolution
ISBN: 978-0-471-95119-3 December 1994 544 Pages
Description
Rock Weathering and Landform Evolution brings together a series of important studies on rock weathering by leading researchers, and illustrates the diversity of approaches and techniques that are currently being used by geomorphologists to study weathering processes and responses. The book commences with a number of research studies and review chapters on weathering processes and weathered products. This is followed by several discussions of the weathering of cut or dressed rock in urban and coastal environments. Contributors then examine the application of weathering and weathering rates to the dating of deposits or rock surfaces. The final section of the book comprises studies of the relationship between weathering and landforms in a variety of climatic environments. The contributions included in this book cover a wide range of topics and demonstrate the many advances that are being made by researchers investigating rock weathering. Some of the studies deal with state-of-the-art technology, others the very traditional geomorphological skills of observation and deductive reasoning, backed up as necessary by statistical analysis. This volume is the first collection of papers on weathering published for many years, and provides a wealth of information not just to geomorphologists but also to geologists, engineers, architects and archaeologists.
Table of contents
Partial table of contents:

WEATHERING PROCESSES.

Weathering of Granitic Rocks: Environment and Clay Mineral Formation (A. Gerrard).

The Effects of Fire on Rock Weathering: An Experimental Study (R. Allison & A. Goudie).

WEATHERING OF BUILDING STONES.

Processes and Rates of Urban Limestone Weathering (R. Inkpen, et al.).

Salt Weathering and the Urban Water Table in Deserts (R. Cooke).

WEATHERING SURFACES AND DATING.

Micro-Mapping as a Tool for the Study of Weathered Rock Surfaces (J. Swantesson).

WEATHERING AND LANDFORM DEVELOPMENT IN TROPICAL AND ARID ENVIRONMENTS.

Ages and Geomorphic Relationships of Saprolite Mantles (M. Thomas).

WEATHERING AND LANDFORM DEVELOPMENT IN TEMPERATE ENVIRONMENTS.

Classification of Dartmoor Tors (J. Ehlen).

WEATHERING AND LANDFORM DEVELOPMENT IN HIGH LATITUDE AND HIGH ALTITUDE ENVIRONMENTS.

Joint Control in the Formation of Rock Steps in the Subglacial Environment (B. Rea).

Indexes.