Roitt's Essential Immunology, 12th Edition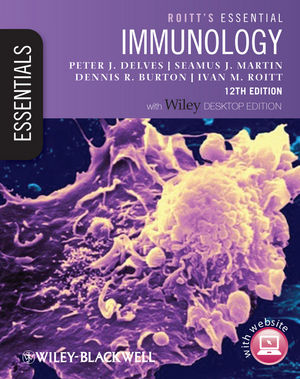 Roitt's Essential Immunology, 12th Edition
ISBN: 978-1-444-39482-5 May 2012 Wiley-Blackwell 288 Pages
Description
BMA Book of the Year 2012
First prize in Basic and Clinical Sciences,
BMA Book Awards 2012
Roitt's Essential Immunology
- the textbook of choice for students and instructors of immunology worldwide
Bringing you fully up-to-date with the latest knowledge and concepts about the workings of the immune system, the hallmark easy-reading style of Roitt's Essential Immunology clearly explains the key principles needed by medical and health sciences students, from the basis of immunity to clinical applications.
Beautifully presented, with brand new illustrations, the pedagogy has been strengthened throughout, and includes "just to recap…" sections at the beginning of each chapter, reminding the reader of key findings and principles, and summary sections at the end of each chapter that are ideal for quick study and revision.
Also available as a FREE enhanced Wiley Desktop Edition (upon purchase of the book), Roitt's Essential Immunology is supported by a suite of online resources at www.roitt.com including:
Interactive MCQs and SBA questions for each chapter, with feedback on all answers selected
Animations and videos showing key concepts
Fully downloadable figures and illustrations, further reading and useful links
Extracts from the Encyclopaedia of Life Science
Podcasts to reinforce the key principles explained in the text: ideal for revision 'on the go'
This title is also available as a mobile App from MedHand Mobile Libraries. Buy it now from
iTunes
,
Google Play
or the
MedHand Store
.
Table of contents
Acknowledgments vi
Preface vii
Abbreviations viii
How to get the best out of your textbook xii
PART 1: Fundamentals of Immunology
1. Innate immunity 3
2. Specifi c acquired immunity 35
3. Antibodies 53
4. Membrane receptors for antigen 79
5. The primary interaction with antigen 113
6. Immunological methods and applications 141
7. The anatomy of the immune response 188
8. Lymphocyte activation 205
9. The production of effectors 226
10. Control mechanisms 263
11. Ontogeny and phylogeny 283
PART 2: Applied Immunology
12. Adversarial strategies during infection 313
13. Vaccines 345
14. Immunodefi ciency 369
15. Allergy and other hypersensitivities 394
16. Transplantation 423
17. Tumor immunology 445
18. Autoimmune diseases 475
Glossary 511
Index 522
New To This Edition
Improved navigation – features a brand new text design, with clearer chapter openings, TOCs, and 're-cap' features. 
Extensive updates to immunological science throughout; vaccines chapter has been completely re-written.
Complete overhaul of the companion website, with new questions, existing animations (relabelled), video clips, sample Encyclopaedia of Life Sciences content, revision podacats, and all figures/tables downloadable.   
Reviews
"Roitt's Essential Immunology is of great interest to a medical student, perfect for a clinician dealing with patients with hypersensitivity reactions or autoimmune conditions and useful even to an experienced immunologist. This book is truly a 21st century publication designed for a modern reader who wishes to gain and further their knowledge of immunology." (World Allergy Organization, 1 November 2011)
"However, Roitt's is a fine choice for a basic immunology course. Because of the many changes in what we know about the immune system, a new edition is welcome." (Doody's, 14 October 2011)
Extra
Roitt's Essential Immunology Companion website  features:

Interactive MCQs and SBA questions for each chapter, with feedback on all answers selected

Animations and videos showing key concepts

Fully downloadable figures and illustrations, further reading and useful links

Extracts from the Encyclopaedia of Life Science

Podcasts to reinforce the key principles explained in the text: ideal for revision 'on the go' 
Features
The core textbook of choice for immunology instructors globally, due to it's scope and organisation
'Just to re-cap' boxes, key topics lists, 'milestone' boxes and end of chapter summaries ensure independent and self-contained chapters - allowing students to pick and choose which elements they use
Includes fully updated artwork: over 400 line illustrations, 110 colour photographs and 60 black and white photographs
Fully supported by a suite of online MCQs, SBAs and answers, video clips, and material from the Encyclopaedia of Life Sciences
Available as a FREE enhanced Wiley Desktop Edition (upon purchase of the textbook) - an interactive digital version of the book featuring downloadable text and images, highlighting and note taking facilities, book marking, cross-referencing, in-text searching, and linking to references and glossary terms