Roller Coaster Science: 50 Wet, Wacky, Wild, Dizzy Experiments about Things Kids Like Best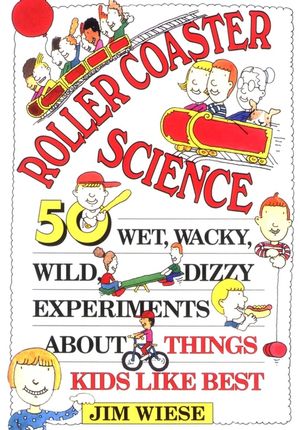 Roller Coaster Science: 50 Wet, Wacky, Wild, Dizzy Experiments about Things Kids Like Best
ISBN: 978-0-471-59404-8
Feb 1994
128 pages
Description
Experience all the fun of science and explore the science of fun Now you can discover.
* Why you don't fly out of your seat when amusement park rides turn upside down
* Why a Frisbee flies
* What makes popcorn pop and hot dogs plump
With dozens of fun, safe, and inexpensive experiments, Jim Wiese reveals the secrets behind these and lots of other awesome mysteries. Did you ever wonder what makes a curveball curve, how cotton candy is made, and why fun house mirrors make you look so weird? Here's a wild way to learn the real reasons. Packed with amusing illustrations and easy-to-follow explanations, Roller Coaster Science is a great way to get into physics, chemistry, biology, and more.
What Goes Up: Playground Activities.

Round and Round We Go: Amusement Park Rides.

Play Ball: Sports and Recreational Activities.

Excitement on the Midway: Fun Foods and Games of Chance.

Glossary.

Bibliography.

Index.