Romanticism: A Critical Reader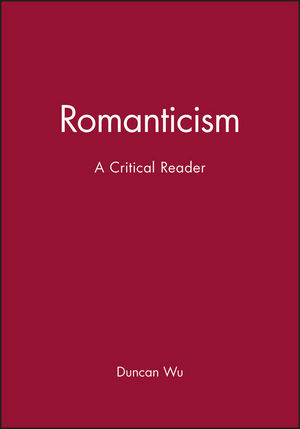 Romanticism: A Critical Reader
ISBN: 978-0-631-19504-7 February 1995 Wiley-Blackwell 492 Pages
Description
Romanticism: A Critical Reader is designed both as a companion and a supplement to Blackwell's Romanticism: An Anthology . It deals for the most part with works included in that volume while affording coverage to key elements, including fiction, beyond the anthologist's scope to include. Most of the movements and schools of thought active during the last fifteen years are represented, including feminism, new historicism, genre theory, psychoanalysis, and deconstructionalism. The reader provides thus a progress report, useful to anyone interested in the application of theoretical ideas to literary texts, giving a unique overview of Romantic studies since 1980.
Introduction.
A Note on Texts and Abbreviations.
Acknowledgements.
Abbreviations.
Blake:.
1. Blakean Zen: Nelson Hilton.
2. Blake's Concept of the Sublime: Vincent Arthur De Luca.
Wordsworth:.
3. Wordsworth, Rousseau and the Politics of Education: James K. Chandler.
4. The History of Imagination: Alan Liu.
Coleridge: .
5. 'Kubla Khan' and the Art of Thingifying: Kathleen M. Wheeler.
6.'Christabel': The Wandering Mother and the Enigma of form: Karen Swan.
Shelley: .
7. Adonais : Shelley's Consumption of Keats: James A. W. Heffernan. .
8. Deconstruction or Reconstruction: Reading Shelley's Prometheus Unbound (Tilottama Rajan) .
Byron: .
9. Don Juan and Byron's Imperceptiveness to the English Word: Peter J. Manning.
10. Byron and the Anonymous Lyric: Jerome J. McGann.
Keats:.
11. The Two Hyperions : Compositions and Decompositions: Balachandra Rajan.
12. Imagination and Growth in the Great Odes: Leon Waldoff.
Other Writers: .
13. Godwin, Burke and Caleb Williams: Marylin Butler.
14. Murder Incorporated: Confessions of a Justified Sinner: Eve Kosofsky Sedwick.
15. Bearing Demons: Frankenstein's Circumvention of the Maternal: Margaret Homas.
16. John Clare in Babylon: Tom Paulin.
17. 'A Revolution in Female Manners': Anne K. Mellor.
18. Jane Austen and Empire: Edward Said.
List of Contributors.
Bibliography.
Index.


Compiled as a cutting-edge critical companion to the major anthology.


Contains 18 key essays on Romanticism written in the last 10 years.


Represents a wide range of theoretical approaches.


Major contributors include Edward Said, Jerome J. McGann, Marilyn Butler, Tom Paulin and others.