Ron's Road to Wealth: Insights for the Curious Investor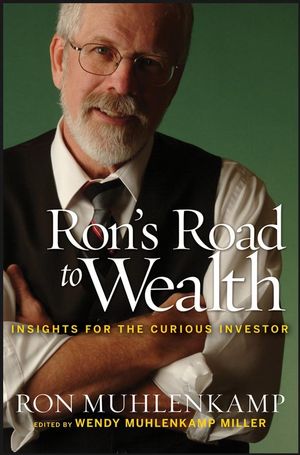 Ron's Road to Wealth: Insights for the Curious Investor
ISBN: 978-0-470-22971-2
Feb 2008
288 pages
Description
Praise for Ron's Road to Wealth

"Long-term investors will learn much from Ron Muhlenkamp's thoughtful reflections on what he has learned about investing over a thirty-year period of successful practice."
--Milton Friedman

"Ron Muhlenkamp has thought long and hard and successfully about investments for many years. He has learned not to be misled by the distortions that inflation brings to normal returns. He has also learned the important understanding that volatility is not the risk that should concern long-term investors. His book will help readers to do better."
--Allan H. Meltzer, Professor of Political Economy and Public Policy, Carnegie Mellon University

"Ron Muhlenkamp has one of the most original, insightful minds in the financial world today. His record is superb. You will find his book a richly rewarding read."
--Steve Forbes, President and Chief Executive Officer of Forbes and Editor in Chief of Forbes magazine

"Conventional wisdom says that mutual fund managers can't beat the market; Ron Muhlenkamp's record proves that he can. Ron's Road to Wealth offers a bounty of snapshots of the insightful thinking that has allowed Muhlenkamp to better his peers with remarkable consistency. While many on Wall Street make their living adding to the confusion of the investment process, Muhlenkamp cuts through the clutter to reveal the commonsense logic underneath the surface. If you're tired of conventional investment results, you'll relish this book's unconventional wisdom."
--Don Phillips, Managing Director of Morningstar, Inc.

"Ron Muhlenkamp is virtually the only commentator in today's investment world who makes a compelling and commonsense case for active investment management. His principles have exactly what you look for in the investment world: they modestly underpromise and have an interesting history of overdelivering."
--Bob Veres, Publisher and Editor of Inside Information
Foreword.
Introduction. Why I Want to Publish This Book and for Whom.
Part 1. The Basics Of Investing.
Chapter 1. Understanding Money.
Chapter 2. The Investing Choices.
Part 2. The Essays.
Chapter 3. 1965–78: The Economy Experiences Accelerating Inflation.
Chapter 4. 1979–81: Transition from Inflation to Disinflation.
Chapter 5. 1982–92: Bonds Do Well; Stocks Do Well.
Chapter 6. 1993–98: Bonds Are Flat; Stocks Do Well.
Chapter 7. 1999–2001: The Fad Years (Some Call Them the "Bubble" Years).
Chapter 8. 2002–6: Back to Normal; A "Normal" We Haven't Seen since 1965.
Chapter 9. 2007: Where to from Here?
Appendix A. A Topical Guide to Ron's Road to Wealth.
Appendix B. Reading List for Life and Investment Fundamentals 101.
Notes.
Glossary.
Index.