Rook's Textbook of Dermatology, 8th Edition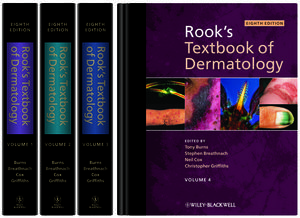 Rook's Textbook of Dermatology, 8th Edition
ISBN: 978-1-118-69775-7 May 2013 Wiley-Blackwell 4432 Pages
Description
The late Arthur Rook established the
Textbook of Dermatology
as the most comprehensive work of reference available to the dermatologist. Covering all aspects of skin disease from basic science through pathology and epidemiology to clinical practice, the text is recognized for its unparalleled coverage of diagnosis.
Hailed by reviewers as 'a thorough, modern masterpiece' and 'the best textbook of dermatology in the world', and trusted by dermatologists around the world for accurate and comprehensive coverage, this clinical classic is the definitive source of information for all dermatologists. The new edition of this venerable classic extends the standard of excellence to include:
All-new coverage of cosmetic dermatology and sexually transmitted diseases
More material on evidence-based dermatology
Increased coverage of dermoscopy
More emphasis on therapeutics throughout the set
More contributions from a greater variety of international experts
New page design with larger illustrations for more immediate recognition
The 8th Edition marks the debut of the online edition of Rook's Textbook of Dermatology, allowing users the fastest possible access to the full range of knowledge on all known dermatological conditions. With fully searchable text and a fully searchable bank of more than 3,300 downloadable images, this online version puts specific information at your fingertips - when and where you need it - and is free with purchase of the four-volume set. The person-specific access code travels with you, not your computer, so you can check with Rook from any location.
With the online version, you can:
Search across all four volumes simultaneously
Search all images separately
Download images into presentations
Link directly to references via a range of sources
Rook's Textbook of Dermatology, in print and now online, provides a reliable, constant companion for all dermatologists.
Table of contents
1 Introduction and Historical Bibliography.
2 Comparative Dermatology.
3 Anatomy and Organization of Human Skin.
4 Functions of Skin.
5 Diagnosis of Skin Disease.
6 Epidemiology of Skin Disease.
7 Evidence Based Medicine and Interpretation of Clinical Studies.
8 Histopathology of the skin.
9 Molecular Biology.
10 Inflammation.
11 Clinical Immunology, Allergy and Photoimmunology.
12 Wound Healing.
13 Genetics and Genodermatoses.
14 Prenatal Diagnosis of Genetic Skin Disease.
15 The Neonate.
16 Naevi and other Developmental Defects.
17 Pruritus.
18 Eczema , Lichenification, Prurigo and Erythroderma.
19 Atopic Dermatitis.
20 Contact Dermatitis : Irritant.
21 Contact dermatitis : Allergic.
22 Occupational Dermatoses.
21 Mechanical & Thermal Injury.
22 Occupational Dermatoses.
23 Mechanical & Thermal Injury.
24 cutaneous Photobiology.
25 Virus Infections.
26 AIDS and the Skin.
27 Bacterial Infections.
28 Mycobacterial Infections.
29 Leprosy.
30 Sexually Transmitted Diseases.
31 Mycology.
32 Parasitic Worms & Protozoa.
33 Diseases Caused by Arthropods and Other Noxious Animals.
34 Disorders of Keratinization.
35 Psoriasis.
36 Non Melanoma Skin Cancer & Other Epidermal Skin Tumours.
37 Tumours of the Skin Appendages.
38 Disorders of the Cutaneous Melanocyte.
39 Disorders Skin Colour.
40 Genetic Blistering Diseases.
41 Immunobullous Diseases.
42 Lichen Planus and Lichenoid Disorders.
43 Disorders of the Sebaceous Glands.
44 Rosacea, Perioral Dermatitis and Similar Dermatoses, Flushing and Flushing Syndromes.
45 Disorders of Sweat Glands.
46 Disorders of Connective Tissue.
47 Urticaria & Mastocytosis.
48 Purpura & Microvascular Occlusion.
49 Vasculitis and Neutrophilic Vascular Reactions.
50 Diseases of the Veins & arteries : Leg ulcers.
51 Disorders of Lymphatic Disorders of the essels.
52 Histiocytoses.
53 Soft Tissue Tumours and Tumour-like Conditions.
54 Cutaneous Lymphomas and Lymphocytic Infiltrates.
55 subcutaneous Fat.
56 the connective Tissue Diseases.
57 Metabolic & Nutritional Disorders.
58 Sarcoidosis.
59 Systemic Disease & the Skin.
60 The Skin & the Nervous System.
61 Psychocutaneous Disorders.
62 Disorders of the Nails.
63 Disorders of the Hair.
64 The Skin & the Eyes.
65 The External Ear.
66 The Oral Cavity and Lips.
67 The Breast.
68 The Genital, Perianal and Umbilical Regions.
69 Racial Influences on Skin Disease.
70 The Ages of Man and their Dermatoses.
71 General Aspects of Treatment.
72 Systemic Therapy.
73 Drug Reactions.
74 Erythema Multiforme, Stevens-Johnson Syndrome, Toxic Epidermal Necrolysis.
75 Topical Therapy.
76 Radiotherapy and Reactions to Ionizing Radiation.
77 Physical and Laser Therapies.
78 Dermatological Surgery.
79 Cosmetic Dermatology
Reviews
"Somehow each edition gets better than the last...the greatest appeal of Rook; its predictable totality of everything dermatological...it is a superlative reference and will answer questions that no other text can...a thorough, modern masterpiece. It will provide years of service on your bookshelf"
Journal of the American Academy of Dermatology on the 7th edition
"Rook's Textbook of Dermatology is a 'must have' for those in training or practising dermatology and should be close at hand in the clinic."
British Journal of Dermatology
"...one of the towering academic and clinical achievements of twentieth century dermatology...no self-respecting dermatologist should even think of practising our specialty without a copy of this book close at hand...a delight to hold, a delight to browse, and a delight to read...As usual, Blackwell's designers have done a beautiful job."
Journal of the American Academy of Dermatology
"...continues the tradition of excellence for which the previous editions were justly acclaimed...it is difficult to imagine practising dermatology without ready access to this book and harder to imagine why one would try."
JAMA
"Essential. Indispensable. The fifth edition of "Rook," just out, is unarguably the best textbook of dermatology in the world."
British Medical Journal
"An outstanding 6th edition of a tried and tested textbook in our field!"
Aktuelle Dermatologie