Rootkits For Dummies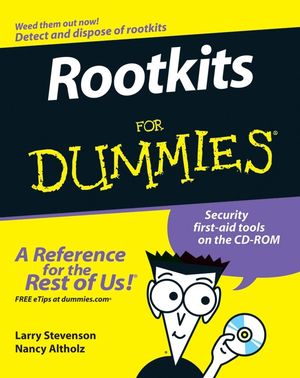 Rootkits For Dummies
ISBN: 978-0-470-10183-4
Dec 2006
380 pages
Description
A rootkit is a type of malicious software that gives the hacker ""root"" or administrator access to your network. They are activated before your system's operating system has completely booted up, making them extremely difficult to detect. Rootkits allow hackers to install hidden files, processes, and hidden user accounts. Hackers can use them to open back doors in order to intercept data from terminals, connections, and keyboards. A rootkit hacker can gain access to your systems and stay there for years, completely undetected.

Learn from respected security experts and Microsoft Security MVPs how to recognize rootkits, get rid of them, and manage damage control.

Accompanying the book is a value-packed companion CD offering a unique suite of tools to help administrators and users detect rootkit problems, conduct forensic analysis, and make quick security fixes.

Note: CD-ROM/DVD and other supplementary materials are not included as part of eBook file.
Introduction.
Part I: Getting to the Root of Rootkits.
Chapter 1: Much Ado about Malware.
Chapter 2: The Three Rs of Survivable Systems.
Part II: Resistance Is NOT Futile.
Chapter 3: Practicing Good Computer Hygiene.
Chapter 4: Staying Secure Online.
Chapter 5: Patching and Updating Your System and Software.
Chapter 6: Blurring the Lines of Network Security.
Part III: Giving Rootkits the Recognition They Deserve.
Chapter 7: Getting Windows to Lie to You: Discovering How Rootkits Hide.
Chapter 8: Sniffing Out Rootkits.
Chapter 9: Dealing with a Lying, Cheating Operating System.
Part IV: Readying for Recovery.
Chapter 10: Infected! Coping with Collateral Damage.
Chapter 11: Preparing for the Worst: Erasing the Hard Drive.
Part V: The Part of Tens.
Chapter 12: Ten (Plus One) Rootkits and Their Behaviors.
Chapter 13: Ten (Plus Two) Security Sites That Can Help You.
Appendix: About the CD.
Index.