Rosso on Fund Raising: Lessons from a Master's Lifetime Experience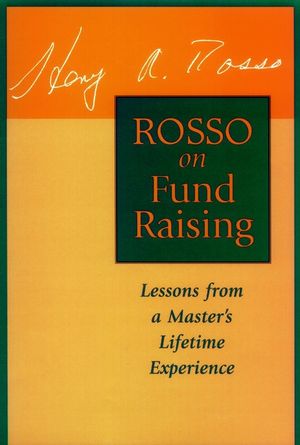 Rosso on Fund Raising: Lessons from a Master's Lifetime Experience
ISBN: 978-0-787-90304-6
Oct 1996, Jossey-Bass
185 pages
Description
A valuable set of reflections, anecdotes, and pure fund raising wisdom from one of the great pioneers in the development field.
--Michael O'Neill, professor and director, Institute for Nonprofit Organization Management, University of San Francisco

For over forty-five years, Henry Rosso has worked to enhance and advance the work and lives of professional fund raisers the world over. He has been recognized as the person who has most shaped present fund raising practice and theory. In this book of thoughtful essays, he explores a variety of topics including leadership, stewardship, the art of asking, building relationships, and more--all in a refreshing writing style that makes fund raising human and friAndly.
THE ESSENTIALS OF FUND RAISING.

1. Setting Realistic Expectations.

2. Growing a Successful Fund Raising Program.

3. Developing Leadership for Fund Raising.

4. The Art of Asking with Composure.

5. It's All About Being Friends: Cultivating Donors.

6. Diversifying Funding Sources.

7. Classic Mistakes and Their Lessons.

8. Evaluating Fund Raising Programs and Capabilities.

FUND RAISING IN PERSPECTIVE.

9. Our Heritage: Rich in Values and Virtues.

10. A Blend of Art and Science: The Five Essential Steps in Disciplined Fund Raising.

11. Language and the Gentle Arts of Persuasion.

12. My Start in Fund Raising.

13. Stewardship in Giving and Receiving.

14. Recollections by One Who Was There.

15. A Call to Service.
"Hank Rosso wrote this book after his first forty-five years in development. The wisdom he's gained over those four-and-a-half decades and his encyclopedic knowledge of the history of fund raising ooze from every page: insights on stewardship, donor cultivation, the qualities of leadership, the art of asking with composure, and a lot more." (Mal Warwick, author of How to Write Successful Fundraising Letters)

"Rosso smoothly combines history and philosophy with strong technique and practical experience...This will be an invaluable book, an classic one day." (Robert L. Payton, professor of philanthropic studies and senior research fellow, Center on Philanthropy, Indiana University)

"Hank Rosso's words and experience model fund raising's best values and practices. Anyone who wants to understand fundraising from the inside out should read Rosso on Fund Raising." (Dean Schooler, president, The Schooler Family Foundation)

"This book is a classic. It includes some of the best wisdom from one of our profession's caring fathers." (Martha A. Taylor, vice president, University of Wisconsin Foundation)

"This is a valuable set of reflections, anecdotes, and pure fund raising wisdom from one of the great pioneers in the development field." (Michael O'Neill, professor and director, Institute for Nonprofit Organization Management, University of San Francisco)