Rough Meditations: From Tour Caddie to Golf Course Critic, An Insider's Look at the Game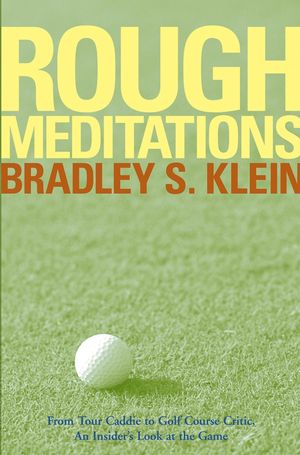 Rough Meditations: From Tour Caddie to Golf Course Critic, An Insider's Look at the Game
ISBN: 978-0-471-78686-3 March 2006 240 Pages
Description
"In Rough Meditations, reading about golf courses is almost as much fun as playing them."
--Arnold Palmer

"Many golfers have strong opinions when it comes to course architecture. Nobody, however, matches Brad Klein's ability to explain the difference between good and bad design. Rough Meditations deserves a place on that select list of must-reads for anyone who cares about the art of the golf course."
--Peter Jacobsen

"Rough Meditations is eloquently written, blends a variety of topics seamlessly together, and touches repeatedly on aspects of golf that are barely acknowledged by the majority of golfers and pretty much disregarded by devotees of the 'aerial game.' If you haven't done so already, buy this book. Read it. Digest what it says. Become architecturally 'literate.' It's worth it."
--Bob Weisgerber, Golf Today Magazine

Rough Meditations is a unique collection of fascinating essays that bring the world's greatest golf courses to life with brilliantly colorful prose. These charming and often hilarious essays take golf enthusiasts on an intimate tour of the game's most distinguished courses. Along the way, readers gain a privileged look at the differences between good and bad golf course design. Featured essays include:
* In Golf as in Life
* Longest Wait That Was Worth It
* Goofiest Modern Green
* Business or Art?
* Read Any Good Greens Lately?
* In the Beginning There Was Sand
* Worst Shot in Golf
* Treasure Hunting

Long considered one of golf's most talented writers, Bradley Klein offers more than fifty essays, ranging from instructive to inspirational, that cover the architecture of courses, how to read greens, the ins and outs of green committees, the relationships that grow from the game, and much more. With a style all his own, Klein takes readers to where he was for years as a caddie on the PGA and LPGA tours--onto the grass and into the game.
Table of contents
Acknowledgments.
Introduction.
1 Early Days.
Father's Day.
Return to Inwood.
2 Caddying.
Stand by Your Man–1981.
A Brief History of Caddying.
Stand by Your Woman.
The '96 Mid-Am: A View from the Caddie Yard.
3 A Writer's Game.
Caddying for Pat Ward-Thomas at the Old Course.
A Thousand Words to Clear His Throat: Herbert Warren Wind.
4 Architectural Elements.
Architectural Literacy.
Classical, Modern, and Post-Modern.
Cultural Links.
Routing Is Destiny.
Movers and Shapers.
Who Cares About Teeing Grounds?
Save Us from Green Committees.
Trees on Golf Courses: Do They Really Belong?
Golf Courses and Old Ballparks–1996.
The Incredible Shrinking Clubhouse.
The Tyranny of Yardage.
Don't Make Me Ride.
Thank Heaven for Little Four-Pars.
Don't Call Them Women's Tees.
5 Business or Art?
Working Landscapes.
Golf Design Goes Ivy League.
When Business Threatens Art.
Oh No, It's the PGA Show!
For a Good Time, Call 1-900-CONSULT.
Lethal Links?
Golf and the Environment: Wildlife Refuge or Toxic Fairways?
Appearance and Reality in the Ratings Game.
Architecture and the Media.
6 Read Any Good Greens Lately?
The First Two Inches of Break Are Inside the Cup.
Modern Greens Construction Demands Craftsmanship.
Riviera's Greens: An Autopsy.
Brown, Not Green, Is Better.
7 In the Beginning There Was Sand.
Mysteries of the 14th at St. Andrews.
The Linksland of Machrihanish.
Scotland's Northern Links.
Western Ireland: The Wind, the Sea, and the Guinness.
8 Treasure Hunting.
Astoria: A Coastal Oregon Gem.
The Orchards: Superintendent Revives Rundown Ross Treasure.
The Fine Art of Restoration–1994.
9 Classical Tracks.
Pine Valley.
Augusta National: What You See and What You Don't See.
Speaking of Hills.
East Lake: The Heart and Soul of a New Atlanta–1995.
Bethpage Black.
Oakland Hills: Interview with "A Monster"
10 Best and Worst Awards.
11 In Golf as in Life.
Divot Man.
How You Handle How You Play.
A Golfer in the Garden.
Those All-Important Marriage Points.
One Divot I'll Never Replace.
A Sense of Security Out West.
What's Really Important.
For Further Reading.
Index.