Rugby Union for Dummies, 2nd UK Edition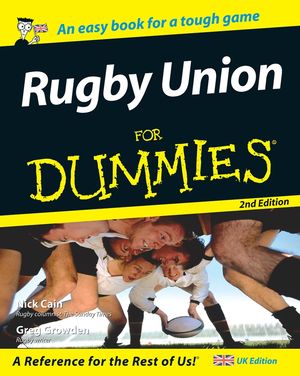 Rugby Union for Dummies, 2nd UK Edition
ISBN: 978-1-119-99644-6
Feb 2011
384 pages
Description
If you get a big kick out of rugby but still feel you could sharpen up your knowledge of the game, this friendly guide is for you. Inside you'll find easy-to-understand advice on the basic rules and pitch positions, plus in-depth lessons on ball skills, fitness training, and techniques to outwit your opponents - all illustrated with entertaining stories from British and International rugby's back pages, and coverage of England's historic 2003 World Cup victory.
Introduction.
Part I: Rugby: Roots, Boots, and All.
Chapter 1: Rudimentary Rugby.
Chapter 2: The Aim of the Game.
Chapter 3: Grab Your Rugby Gear.
Part II: Getting Down and Dirty.
Chapter 4: Location, Location, Location: Positions on the Pitch.
Chapter 5: Laying Down the Laws.
Chapter 6: Honing Your Skills.
Chapter 7: Breaking Down the Breakdown.
Chapter 8: Leaping Lineouts.
Chapter 9: Talking Tactics.
Chapter 10: Talented Training.
Chapter 11: Coaching.
Part III: Welcome to Planet Rugby.
Chapter 12: The World Cup.
Chapter 13: The International Scene.
Chapter 14: Home and Away.
Chapter 15: The Domestic Scene.
Part IV: Following the Game: The Informed Fan.
Chapter 16: Compulsive Viewing: Rugby on the Screen.
Chapter 17: Keeping Up with the News.
Chapter 18: Spectating and Sobriquets.
Part V: The Part of Tens.
Chapter 19: The Ten Best British Players of All Time.
Chapter 20: Ten Matches Made in Rugby Heaven.
Chapter 21: Ten Peculiar Facts about Rugby.
Part VI: Appendixes.
Appendix A: Honour Boards.
Appendix B: Glossary.
Appendix C: Key Rugby Organisations.