Rules of Thumb for Home Building, Improvement, and Repair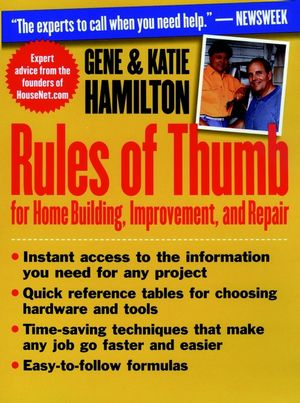 Rules of Thumb for Home Building, Improvement, and Repair
ISBN: 978-0-471-30983-3
Sep 1997
213 pages
Description
Before you drive that first nail, this is the guide you need--thousands of hints, tips, and professional tricks of the trade

Authoritative, detailed, and fully illustrated, Rules of Thumb for Home Building, Improvement, and Repair gives you all the inside information you need to make your home improvement project go faster and easier. For this all-in-one volume, do-it-yourself experts Gene and Katie Hamilton, founders of the online service HouseNet, have distilled the best professional home repair and remodeling information.

Rules of Thumb will help you avoid the costly headaches that can result from using the wrong materials, amounts, or measurements. Here in plain English are all the technical standards and specifications for lumber, fasteners and adhesives, carpentry, plumbing, electrical wiring, painting, walls, ceilings and floors, doors and windows, weatherizing and climate control, exteriors, asphalt, concrete, masonry, and more. Plus, you'll discover time-tested procedures that get you the results you want every time.

Whatever project you're about to begin, Rules of Thumb for Home Building, Improvement, and Repair is the first place to look for professional advice.

Acclaimed do-it-yourself experts Gene and Katie Hamilton are the authors of many successful books and magazine articles on remodeling and repair. In addition to their nationally syndicated newspaper column, "Do It Yourself--Or Not?" they are the creators of HouseNet, an online home improvement service on America Online (keyword: housenet) and on the Internet (www.housenet.com). They have been on the Today show, Dateline, and CNN and have been written about in Newsweek and other national publications. The Hamiltons live in Maryland.
Wood Building Materials.

Fasteners and Adhesives.

Rough Carpentry and Finish Carpentry.

Plumbing.

Electrical.

Painting.

Walls.

Ceilings and Floors.

Doors and Windows.

Weatherizing and Climate Control.

Exterior.

Concrete, Masonry, and Asphalt.

Index.