Running for Freedom: Civil Rights and Black Politics in America Since 1941, 3rd Edition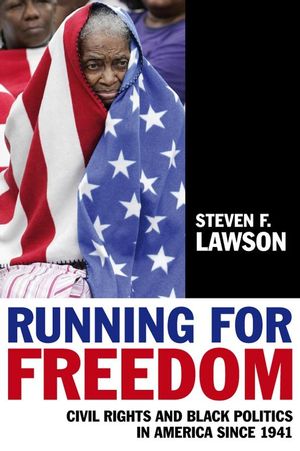 Running for Freedom: Civil Rights and Black Politics in America Since 1941, 3rd Edition
ISBN: 978-1-444-36071-4
Sep 2011, Wiley-Blackwell
408 pages
Description
Running for Freedom, 3rd edition charts the monumental struggle for African-American civil rights and the impact of that movement in transforming the American political system in the South and nationwide from 1941 to 2008.
Explores the interplay between the local and the national dimensions of the civil rights story, between grassroots activists and federal officials, and between the North and South
New edition includes new material on the Clinton Administration, the controversial 2000 and 2004
presidential elections, and the disaster that Hurricane Katrina wrought on New Orleans
Right up-to-date, it also describes the rise to power of Barack Obama and the achievement of black political legitimacy
Ideal for students: short, teachable, and accessibly written; visually engaging with new photographs and maps
Preface.
1. World War II and the Origins of the Freedom Struggle.
2. Ballots, Boycotts, and the Building of a National Agenda.
3. Surging Protest, Shifting Politics.
4. Reenfranchisement and Racial Consciousness.
5. The New Black Politicians: From Protest to Empowerment.
6. Progress and Poverty: Politics in a Conservative Era.
7. In Search of Legitimacy.
8. Hope and Despair: the 1990s.
9. Still Running for Freedom.
Bibliographical Essay.
Index
"[T]he most astute and comprehensive synthesis of Black politics and the long Civil Rights era.
Running for Freedom
provides brilliant analyses of the political struggles African Americans have waged in the last half of the 20th century and into the new millennium. I highly recommend this illuminating book." —
Darlene Clark Hine, Northwestern University
"Lawson's classic study of blacks and American politics receives a welcome and timely updated edition. Anyone wishing to understand the significance of Barack Obama's run for president should start here." — John A. Kirk, Royal Holloway, University of London

"Steven Lawson's new edition of Running for Freedom clearly and convincingly connects the power of black activism in the recent past to America's inclusive and exciting political present." — Cynthia Griggs Fleming, University of Tennessee

"[H]istorical narrative at its best. This updated classic brings the struggle of African Americans to secure—and retain—the ballot into the new millennium. Lawson once again demonstrates why he is one of the best civil rights historians of his generation." — Robert A. Pratt, University of Georgia, author of We Shall Not Be Moved: The Desegregation of the University of Georgia

"Running for Freedom is a majestic recounting of modern America's greatest epic, the on-going struggle for civil rights, told by one of the movement's finest historians. A sweeping, enlightening, inspiring book." — Kevin Boyle, Ohio State University, author of Arc of Justice: A Saga of Race, Civil Rights and Murder in the Jazz Age

"In the newest edition of his authoritative study of African American political life since the era of World War II, Steven Lawson connects all the dots between A. Philip Randolph and Barack Obama. Those eager to proclaim 'the end of black politics' would do well to acquaint themselves with the historical struggles so eloquently described in this impressive book." — John Dittmer, DePauw University


Charts the monumental struggle for African-American civil rights and the impact of that movement in
transforming the American political system since 1941

Explores the interplay between the local and the national dimensions of the civil rights story, between
grassroots activists and federal officials, and between the North and South

This third edition includes new material on the Clinton Administration, the controversial 2000 and 2004
presidential elections, and the disaster that Hurricane Katrina wrought on New Orleans

Right up-to-date, it also describes the rise to power of Barack Obama and the achievement of black
political legitimacy