Russia's Age of Serfdom 1649-1861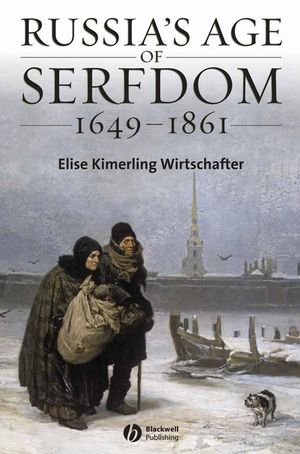 Russia's Age of Serfdom 1649-1861
ISBN: 978-1-405-13457-6
Feb 2008, Wiley-Blackwell
312 pages
Description
Russia's Age of Serfdom 1649-1861 offers a broad interpretive history of the Russian Empire from the time of serfdom's codification until its abolition following the Crimean War.
Considers the institution of serfdom, official social categories, and Russia's development as a country of peasants ruled by nobles, military commanders, and civil servants
Illuminates the reality of absolute monarchy in Russia, with special emphasis on the mobilization of human and material resources, the search for regular government, and the persistence of personal-moral forms of authority
Traces the emergence of modern Russian culture out of and alongside Orthodox religious culture
Illustrations.
Series Editor's Preface.
Preface.
Part I Russian Absolute Monarchy 1649-1725.
1 Face to Face in Russian Society.
2 Building a Service State.
3 Muscovite Tradition and Petrine Cultural Revolution.
Part II The Building of Society 1725-1796.
4 From the Household to Society.
5 From Service State to Government by Moral Means.
6 Russian Enlightenment Culture: A Moral Voice for Society.
Part III Government and People in Old Regime Russia 1796-1861.
7 The Emergence of Independent Society.
8 The Limits to Bureaucratic Government.
9 To Speak for the Russian People.
Notes.
References.
Index.
"There are different ways to write a survey of Russian history, and most of them have been tried many times. Yet Simon Dixon, the editor of this excellent three-volume series, has invited his authors to do something new."  (Slavonic and East European Review, 1 April 2012)
"The real strength of this book lies in its quality as an extended interpretive essay ... .Graduate students, advanced undergraduates, and non-Russianist historians. It is they who have the most cause to welcome the publication of this excellent book, and to look forward to the remaining volumes in the Blackwell History of Russia series" (Reviews in History, March 2009)
"Wirtschafter's detailed descriptions and analysis, particularly of the Muscovite and Petrine periods, make this an excellent source for advanced undergraduates and graduate students. The addition of an inclusive introduction and conclusion would have made the book more accessible to a general audience." (CHOICE, February 2009)


Offers a broad interpretive history of the Russian Empire from the time of serfdom's codification until its abolition following the Crimean War

Considers the institution of serfdom, official social categories, and Russia's development as a country of peasants ruled by nobles, military commanders, and civil servants

Illuminates the reality of absolute monarchy in Russia, with special emphasis on the mobilization of human and material resources, the search for regular government, and the persistence of personal-moral forms of authority

Traces the emergence of modern Russian culture out of and alongside Orthodox religious culture