Russian For Dummies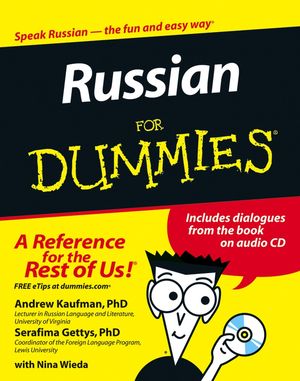 Russian For Dummies
ISBN: 978-1-118-05288-4 May 2011 384 Pages
Description
Russian is spoken by nearly 450 million people, and demand for Russian-speakers is growing. This introductory course includes an audio CD with practice dialogues-just the ticket for readers who need basic Russian for business, school, or travel.

Serafima Gettys, PhD (Newark, CA), is Coordinator of the Foreign Language Program at Lewis University.
Andrew Kaufman, PhD (Charlottesville, VA), is a Visiting Assistant Professor at the University of Virginia.

Note: CD-ROM/DVD and other supplementary materials are not included as part of eBook file.
Introduction.
Part I: Getting Started.
Chapter 1: You Already Know a Little Russian.
Chapter 2: The Nitty Gritty: Basic Russian Grammar and Numbers.
Chapter 3: Zdravstvujtye! Privyet! Greetings and Introductions.
Part II: Russian in Action.
Chapter 4: Getting to Know You: Making Small Talk.
Chapter 5: Making a Fuss about Food.
Chapter 6: Shopping Made Easy.
Chapter 7: Going Out on the Town, Russian-Style.
Chapter 8: Enjoying Yourself: Recreation and Sports.
Chapter 9: Talking on the Phone and Sending Mail.
Chapter 10: Around the House and at the Office.
Part III: Russian on the Go.
Chapter 11: Planning a Trip.
Chapter 12: Getting Around: Planes, Trains, and More.
Chapter 13: Staying at a Hotel.
Chapter 14: Money, Money, Money.
Chapter 15: Where Is Red Square? Asking Directions.
Chapter 16: Handling Emergencies.
Part IV: The Part of Tens.
Chapter 17: Ten Ways to Pick Up Russian Quickly.
Chapter 18: Ten Favorite Russian Expressions.
Chapter 19: Ten Russian Holidays to Remember.
Chapter 20: Ten Phrases That Make You Sound Russian.
Chapter 21: Ten Things Never to Say or Do in Russia.
Part V: Appendixes.
Appendix A: Verb Tables.
Appendix B: Mini-Dictionary.
Appendix C: Answer Key.
Appendix D: On the CD.
Index.