Russian Literature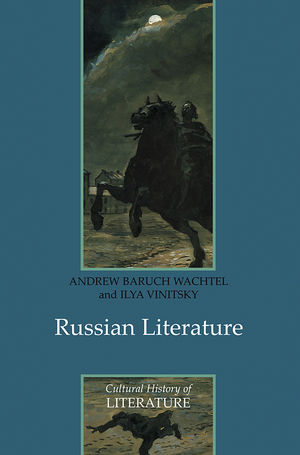 Russian Literature
ISBN: 978-0-745-63686-3 May 2009 Polity 244 Pages
Description
For most English-speaking readers, Russian literature consists of a small number of individual writers – nineteenth-century masters such as Dostoevsky, Tolstoy and Turgenev – or a few well-known works – Chekhov's plays, Brodsky's poems, and perhaps Master and Margarita and Doctor Zhivago from the twentieth century. The medieval period, as well as the brilliant tradition of Russian lyric poetry from the eighteenth century to the present, are almost completely terra incognita, as are the complex prose experiments of Nikolai Gogol, Nikolai Leskov, Andrei Belyi, and Andrei Platonov. Furthermore, those writers who have made an impact are generally known outside of the contexts in which they wrote and in which their work has been received.

In this engaging book, Andrew Baruch Wachtel and Ilya Vinitsky provide a comprehensive, conceptually challenging history of Russian literature, including prose, poetry and drama. Each of the ten chapters deals with a bounded time period from medieval Rus' to the present. In a number of cases, chapters overlap chronologically, thereby allowing a given period to be seen in more than one context. To tell the story of each period, the authors provide an introductory essay touching on the highpoints of its development and then concentrate on one biography, one literary or cultural event, and one literary work, which serve as prisms through which the main outlines of a given period's development can be discerned. Although the focus is on literature, individual works, lives and events are placed in broad historical context as well as in the framework of parallel developments in Russian art and music
List of Illustrations vi
Chronology vii
Introduction: Labyrinth of Links: Russian Literature and its Cultural Contexts 1
1 The Origins: Russian Medieval Culture 7
2 The Spirit of Peter: Russian Culture in the Eighteenth Century 31
3 The Spirit of Poetry: Russian Culture in the Age of Alexander I (1801–25) 57
4 The Russian Idea: The Quest for National Identity in Nineteenth-Century Russian Culture 89
5 Russian Psychology: The Quest for Personal Identity in Nineteenth-Century Russian Culture 125
6 Life as Theatre: Russian Modernism 157
7 The Art of the Future: The Russian Avant-Garde 182
8 The Future as Present: Soviet Culture 204
9 After the Future: Russian Thaw Culture 233
10 Instead of the Apocalypse: Russian Culture Today 261
Conclusion: Whither Russian Literature 285
Notes 294
Bibliography 302
Index 308
"A notable contributino to existing pedagogical and research resources … providing a thorough, engaging overview of Russian literature from its beginnings to the present."
Slavic and East European Journal
"The authors accomplish a rare tour de force: in remarkably few pages readers are exposed to the entire sweep of Russian literary culture, not as a summary but as an intellectual commentary on a great world literature. A terrific book for students and general readers alike."
Jeffrey Brooks, Johns Hopkins University
"An adventurous and provocative meditation on Russian literary history that throws unexpected new light on apparently familiar figures, as well as introducing new writers, new connections, and a new sense of context. Wachtel and Vinitsky's account of Russian literature gives proper emphasis to the pre-Petrine era and the eighteenth century, as well as the nineteenth and twentieth centuries, but is much more than a standard potted history. They are able to emphasise large themes, such as the role of literature in the rise of nationalism, and at the same time to search out striking and offbeat examples from sources such as unpublished memoirs. Their book is one of the most original and stimulating accounts of the subject to appear in any language."
Catriona Kelly, New College, Oxford
"To transmit the evolving spirit of a culture takes as much magic as chronology, and this mesmerizing volume delivers the best of all worlds. At flashpoints over a thousand years, select persons, artworks, and events are triangulated into miniature stories, each alive with human faces at thrilling creative risk."
Caryl Emerson, Princeton University
"This readable, challenging book fills a serious gap in our studies of Russian literature: it covers the entire history of writing on Russian soil and it does so as proper history, with well argued theses about the development of this literature in cultural context, taking culture in both aesthetic and anthropological senses of the word. Fresh, persuasive readings illuminate each of the dozen chapters."
William Mills Todd, Harvard College
A comprehensive history of Russian literature and culture.

Provides a broad overview but also hones in on key events, people and texts to provide depth and sustained analysis.

Places individual works, lives and events in their historical context as well as in the context of parallel developments in art and music.

Develops our understanding of well known Russian writers such as Tolstoy, Dostoevsky and Nabokov, whilst also introducing important lesser known figures.