Russian Phrases For Dummies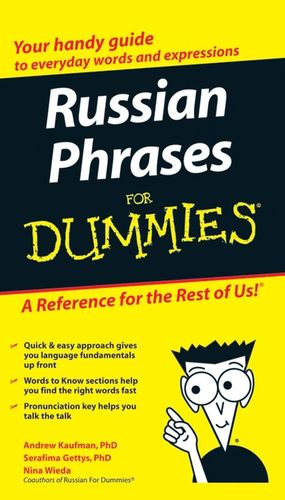 Russian Phrases For Dummies
ISBN: 978-0-470-14974-4 September 2007 224 Pages
Description
Traveling in a foreign country such as Russia suddenly becomes a lot more exciting when you can engage in elegant small talk with the locals. Russian Phrases For Dummies is your handy guide to everyday words and phrases you can start using immediately to make your visit more rewarding and a whole lot easier.

This user-friendly phrasebook will jump-start your comprehension and have you speaking basic Russian in no time. Its quick-and-easy approach gives you language fundamentals up front, the Words to Know section helps you find the right word fast, and the easy-to-use pronunciation key helps other people understand what you're trying to say. You'll learn how to:
Get directions, shop, and eat out
Talk numbers, dates, and time
Chat about family and work
Discuss sports and the weather
Deal with problems and emergencies
Pronounce familiar English words and phrases in Russian and English
Beware of words that sound to English but don't mean the same thing
Read signs that use the Russian alphabet
Follow the conventions of Russian pronunciation
Use basic Russian grammar correctly
Keep ten commonly used Russian phrases on the tip of your tongue
Use basic telephone vocabulary and send letters, emails, and faxes
Don't have time to study the language before you get to Russia? No worries. Just flip through Russian Phrases For Dummies, find the section that fits your needs, and start talking!
Introduction.
Chapter 1: I Say It How? Speaking Russian.
Chapter 2: Grammar on a Diet: Just the Basics.
Chapter 3: Numerical Gumbo: Counting of All Kinds.
Chapter 4: Making New Friends and Enjoying Small Talk.
Chapter 5: Enjoying a Drink and a Snack (or a Meal!).
Chapter 6: Shop 'Til You Drop.
Chapter 7: Making Leisure a Top Priority.
Chapter 8: When You Gotta Work.
Chapter 9: I Get Around: Transportation.
Chapter 10: Laying Down Your Weary Head: House or Hotel.
Chapter 11: Dealing with Emergencies.
Chapter 12: Ten Favorite Russian Expressions.
Chapter 13: Ten Phrases That Make You Sound Russian.
Index.