SAP NetWeaver For Dummies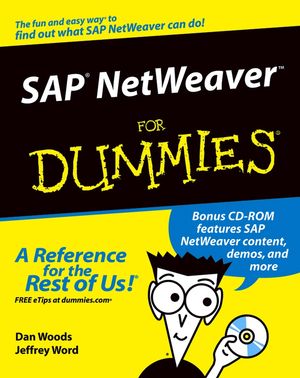 SAP NetWeaver For Dummies
ISBN: 978-1-118-08530-1
May 2011
432 pages
Description
Imagine that it's the 1950s, and you are in charge of developing the U. S. interstate system. There are countless roads already in use. The system can go in numerous different directions. Where do you begin?

Starting to transform your business with SAP NetWeaver is that daunting. NetWeaver is both an application platform and an integration platform. It integrates your current IT systems to enable portals, collaboration, data management, and development environments. To grasp the complexities and possibilities of SAP ASAP, dig in with SAP NetWeaver For Dummies and explore:
MySAP Business Suite
SAP Enterprise Planning Resource (ERP), Customer Relationship Management (CRM), Supply Chain Management (SCM), Human Capital Management (HCM), Product Lifecycle Management (PLM), Supplier Relationship Management (SRM), and more
Mobile Infrastructure that performs like a universal translator for mobile interfaces, including laptops, wireless phones, and PDAs
Master Data Management, including using the content consolidation technique to "clean up" data, master data harmonization to distribute it, and central master data management to maintain a data repository
Web Application Service and NetWeaver Developer Studio—tools that let you integrate and create your own customized applications
Written by Dan Woods, former CTO of The Street.com and CapitalThinking, and Jeffrey Word, the Director of Technology Strategy for SAP, this guide features real-life stories from businesses and examples of typical uses to help you cut through the complexities and get up and running. It includes a CD-ROM with:
Detailed white papers and product overviews
Stores from customers using SAP NetWeaver today
Demos that show SAP NetWeaver in action
A directory of resources for additional information
Like that interstate system, SAP NetWeaver doesn't have to be integrated all at once. You choose the applications that have the most potential to benefit your company's operations and bottom line. SAP NetWeaver For Dummies even gives you recommendations for rolling it out and suggests practical ways to get started and get quick returns on your SAP investment. Then you're going full-speed ahead on the road to success!
Introduction.
Part I: Enterprise Software Basics.
Chapter 1: SAP NetWeaver: The New Foundation of IT.
Chapter 2: Primordial Acronym Soup: The Origins of Enterprise.
Chapter 3: Meet SAP NetWeaver.
Chapter 4: The Birth of a Solution.
Chapter 5: A Blueprint for the Future.
Chapter 6: The Evolution of mySAP Business Suite.
Chapter 7: Composite Applications and SAP xApps: Flexible and Reusable Innovation.
Part II: The Cast of Components.
Chapter 8: SAP Enterprise Portal: Something for Everyone.
Chapter 9: SAP Mobile Infrastructure: Information Hits the Road.
Chapter 10: SAP Gives Business Intelligence.
Chapter 11: Mastering SAP Master Data Management.
Chapter 12: Exchanging Data.
Chapter 13: SAP Web Application Server: The Cornerstone of SAP NetWeaver.
Part III: A Nifty Development Toolkit.
Chapter 14: SAP NetWeaver Developer Studio.
Chapter 15: Visual Composer: Going Codeless.
Chapter 16: Composite Solutions.
Chapter 17: Tying It All Together: SAP Solution Manager.
Part IV: SAP NetWeaver in Action.
Chapter 18: The World of Internal Portals.
Chapter 19: Deploying Web Services.
Chapter 20: SAP R/3 and Then Some.
Chapter 21: Making Sense of Data: Analytics and Reporting.
Chapter 22: Doing the Application-to-Application Thing.
Chapter 23: Custom Made: Composite Applications.
Part V: Rolling Out SAP NetWeaver.
Chapter 24: Plans and People.
Chapter 25: Information Station.
Chapter 26: Nifty Implementation Processes and Swell Software.
Part VI: The Part of Tens.
Chapter 27: Ten (or so) Ways to Get Started with SAP NetWeaver.
Appendix: About the CD.
Index.