SAP SCM: Applications and Modeling for Supply Chain Management (with BW Primer)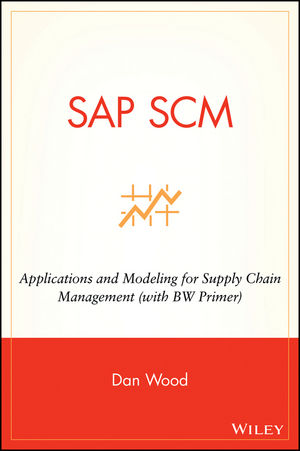 SAP SCM: Applications and Modeling for Supply Chain Management (with BW Primer)
ISBN: 978-0-471-76991-0
Feb 2007
336 pages
Description
SAP SCM: Applications and Modeling for Supply Chain Management empowers you to capitalize on the sophistication of SAP APO. This book provides clear advice on the inevitable, critical decisions that can lead to project success or failure and shows you, wherever you are on the supply chain management staff—buyer, planner, ground controller or analyst—to fully exploit the agility SAP APO offers.
Buy Both and Save 25%!
Original Price:$250.00
Purchased together:$187.50
save $62.50
Cannot be combined with any other offers.
Preface ix
Acknowledgments xiii
Table of Abbreviations xv
Part 1 Cultural Background: The Business and Technical Context for SCM 1
1 How to Use This Book: APO as a Mind Map 3
One Book, Many Curriculums: Custom Recommendations for Reading Order 5
Included and Excluded: Scope of this Text 6
2 SCM Architecture 11
Enterprise Landscape for Planning in SCM 11
SCM Applications and Components 14
Simulating the Supply Chain 20
APO Tools for Users 22
3 Supply Chain Landscape 34
Supply Chain Landscape 34
Planning Supply Chain Disciplines 40
Supply Chain Data Pipelines 47
Integrated, Wall-to-Outside-the-Wall Supply Chain Solution 49
4 Advice to the Executive Considering SAP APO and SCM 50
Six Short Executive Lessons in ERP 51
Profile of an SAP SCM Project with a High Likelihood of Success 59
Part 2 Stocks and Bases: Master Data SCM 61
5 Supply Chain Management Master Data 63
Locations and Calendars 63
Products 70
Resources and Work Centers 84
Production Process Models and Run Time Objects 96
Transportation Lanes 108
External Procurement Relationships 111
Quota Arrangements 116
Models and Planning Versions 119
Transactional Data 124
Master Data Recipes 127
6 Analytical Master Data: BW Primer Part I 131
SCM versus ''Analytical'' Master Data 131
Star Schema 133
BW, APO, and Analytical Data Objects 135
BW in the SCM Data Mart 138
Setting Up Analytical Master Data 138
7 Core Interface 146
When R/3 Is Not the Transactional Data Management System 147
Using R/3 with APO 147
Basic Integration Model Configuration 148
Part 3 Entrees: APO Planning Modules 161
8 APO User Interfaces and the PP/DS Module 163
General APO User Interfaces 164
PP/DS Context 202
PP/DS Master Data and CIF 205
Using PP/DS 208
Configuring PP/DS 214
Detailed Scheduling and PP/DS User Interfaces 222
9 Demand Planning Module 230
DP Master Data and CIF 231
Using DP 232
Configuring DP 235
Univariate Forecast 240
Demand Planning Configuration Recipe 250
10 Supply Network Planning 251
SNP Master Data and CIF 253
Using SNP 254
Configuring SNP 257
SNP Configuration Recipe 271
Part 4 Beyond Planning: Analytics, Collaboration, and Keys for Success 273
11 BW Primer Part II 275
Not Just a Data Warehouse: Reengineering ERP 275
Using BEx 278
BW Enterprise and BW Data Mart 281
Profile of a Full-Powered APO Deployment 282
12 Inventory Collaboration Hub and APO Collaboration 285
B2B Context of ICH and Collaboration 285
ICH Master Data 289
Using ICH and APO Collaboration 290
ICH Data Pipelines 294
13 The Lucky Chapter: Of Boats and Software—Four Keys to Unlocking SCM 296
''Keys'': To Neuter a Cliche 297
It's Only a Key If You Know It's a Key 298
The Keys 299
What Would You Pay For Wal-Mart's or UPS's Supply Chain? 310
Index 313
"Wood has put together an excellent resource for users who want to understand more of what they can do with SAP SCM" (Supply Management, Thursday 6th September 2007)