SAT Vocabulary For Dummies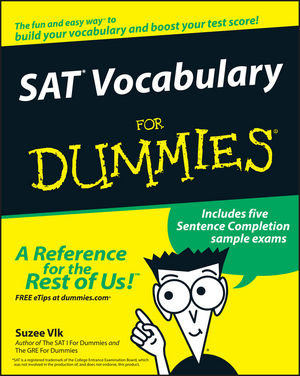 SAT Vocabulary For Dummies
ISBN: 978-0-764-52546-9 March 2003 384 Pages
Description
Unfortunately, most students don't have the wealth of words or the volume of vocabulary that enable them to get top scores on the SAT I (the test that most people call "the SAT"). The fact that you don't have an SAT vocabulary isn't due to a lack of intelligence, it's due to the fact that almost everyone speaks using concise sentences that get to the point, rather than belabor it.

Everyone begins with a different level of vocabulary. You may already know half of the words here or you may only know a few. Regardless of how strong or weak your vocabulary currently is, SAT Vocabulary For Dummies will help you build your vocabulary and boost your test scores.

SAT Vocabulary For Dummies focuses exclusively on the vocabulary you need to know to get a good verbal score on the SAT. In this fun and easy-to-understand guide, test-prep guru Suzee Vlk provides you with a reliable way to increase your vocabulary—and scores. Unlike most vocabulary books, which provide long, boring, alphabetical lists of words, this groundbreaking guide organizes vocabulary into easy-to-remember categories (such as "personal appearance," "intelligence," or "money"). This book also:
Focuses on "hot" SAT words—the 500 or so that turn up again and again on the exams
Illustrates the meaning of words by placing them in the context of a sentence—usually through humorous stories
Delivers lots of practical tips and tools for remembering tough words
Gives the lowdown on roots
Lists antonyms and synonyms and shows ways to increase comprehension using context
Contains practice questions with answer explanations
Packed with tips, tricks, stories, and jokes that will help build your vocabulary, SAT Vocabulary For Dummies is a painless way to get a handle on the words that you need to master before you take the SAT.
Introduction.
Part I: Hardwiring Words into Your Brain.
Chapter 1: Mastering Test Vocabulary.
Chapter 2: Digging Out Meaning: Prefixes, Roots, and Suffixes.
Part II: Groups and Troops: Essential Vocabulary by Category.
Chapter 3: Mirror, Mirror on the Wall: Words about Personal Appearance.
Chapter 4: For Richer or for Poorer: Words about Money.
Chapter 5: Look Who's Talking: Words about Speaking.
Chapter 6: Never Trust Anyone Over Thirty: Words about Age.
Chapter 7: Hip, Hip, Hurray! Words of Praise and Criticism.
Chapter 8: It Was the Best of Times, It Was the Worst of Times: Words of Joy and Sorrow.
Chapter 9: When Your IQ Is a Fraction: Words about Intelligence.
Chapter 10: Couch Potatoes Need Love, Too: Words of Energy and Laziness.
Chapter 11: I'm Not Always Right, But I'm Never Wrong: Words about Stubbornness.
Chapter 12: Classy Chat: Impressive Words for Impressive Scores.
Part III: Story Time: Finding Meaning in Context.
Chapter 13: Donna and Larry's Big Adventure.
Chapter 14: All President and Accounted For.
Chapter 15: Attack of the Killer SAT Book.
Chapter 16: Report Card Jitters.
Chapter 17: The Boy Who Barfed on Me.
Chapter 18: King of the (Tongue) Studs.
Chapter 19: The Girl Who Yelled, "You Stink!".
Chapter 20: Banned from the Bash.
Chapter 21: Kid Klepto, the Boy Who Robbed Me Blind.
Chapter 22: A Jewel of a House.
Part IV: Putting You to the (Practice) Tests.
Chapter 23: Practice Test #1.
Chapter 24: Practice Test #2.
Chapter 25: Practice Test #3.
Chapter 26: Practice Test #4.
Chapter 27: Genius Test.
Part V: The Part of Tens.
Chapter 28: Ten Ways to Put a Good Vocabulary to Use in the Real World.
Chapter 29: Ten Great Quotes about Words.
Chapter 30: Ten Ways to Master Words When English Is a Foreign Tongue.
Appendix A: Additional Resources.
Appendix B: Glossary.
Index.