SOP 13-1 Attest Engagements on Greenhouse Gas Emissions Information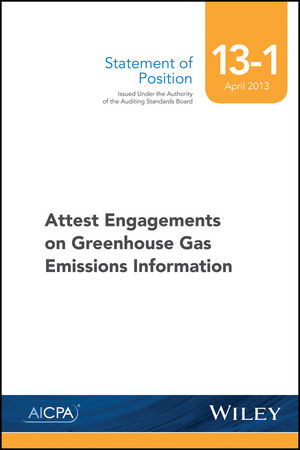 SOP 13-1 Attest Engagements on Greenhouse Gas Emissions Information
ISBN: 978-1-937-35214-1 May 2017 80 Pages
Description
Mounting concern over climate change around the world has resulted in a wide array of legislative, regulatory and voluntary responses for reporting and reduction of greenhouse gas emissions (GHG). Corporate and public interest in sustainability and climate change issues, and voluntary reporting of greenhouse gas (GHG) emissions information, has grown significantly in the United States during the last decade. The number of U.S.-based companies seeking external assurance on their sustainability reports continues to grow. The majority of these companies are seeking a moderate level of assurance, or a review. While the existing attestation standards provide a framework for performing such services, the specific application guidance in this area needs to be developed.
The AICPA previously issued Statement of Position (SOP) 03-2, Attest Engagements on Greenhouse Gas Emissions Information, to provide guidance to CPAs on how to apply the attestation standards to GHG emissions reporting for an examination level of service with the expectation that it would be used to satisfy requirements for assurance in connection with GHG trading schemes or regulatory submissions.
However, the first requests coming through for assurance in the United States are not to satisfy regulatory requirements but, rather, appear to be from companies that are voluntarily looking to add more credibility to information that they are publicly reporting. As a result, they are seeking assurance for this purpose at a more cost-effective level than an examination.
To respond to this need, SOP 13-1 updates SOP 03-2 by including guidance on how to apply the attestation standards for a review engagement to the specific subject matter of GHG emissions information.
This SOP is an essential resource for practitioners performing GHG engagements, whether examinations or reviews, and provides guidance on performing and reporting:
Examination or review on a schedule or an assertion relating to information about a GHG emissions inventory or a baseline GHG inventory
Examination or review on a schedule or an assertion relating to information about a GHG emission reduction in connection with the recording of the reduction with a registry or a trade of that reduction or credit
Introduction 1
GHG Reporting in the United States 2
Terms and Definitions Used by Registries and Regulatory Frameworks 3
Scope of This SOP 4
Engagement Acceptance Considerations 5
Independence 7
Adequate Knowledge of Subject Matter and Use of a Specialist 7
Considerations When Selecting and Using the Work of a Specialist 11
Criteria 12
Attributes to Be Met by GHG Emission Reductions 13
Materiality 15
Uncertainty in the Measurement of GHG Emissions 15
Consistency 16
Boundaries 16
Scopes for Reporting GHG Emissions: Direct and Indirect Emissions 17
Baselines 19
Objective of the Engagement 19
GHG Inventory 19
GHG Emission Reduction Information 20
Written Assertion by the Responsible Party 23
Engagement Performance 23
Agreement on Engagement Terms 23
Planning the Engagement 24
Part of Attest Engagement Performed by Other Practitioners 27
Attestation Risk 27
Obtaining Sufficient Evidence 28
Consideration of Subsequent Events 34
Adequacy of Disclosure 35
Representation Letter 36
Reporting 38
Attest Documentation 41
Effective Date 41
Appendix A—Glossary 42
Appendix B—Sources for GHG Emission Protocols and Calculation Tools 48
Appendix C—Illustrative Management Representation Letter 50
Appendix D—Illustrative Examination Reports on GHG Emissions Information 53
Appendix E—Illustrative Examination Reports on GHG Emission Reduction Information 56
Appendix F—Illustrative Review Reports on GHG Emissions Information 59
Appendix G—Illustrative Review Reports on GHG Emission Reduction Information 62