SOSE Medievil History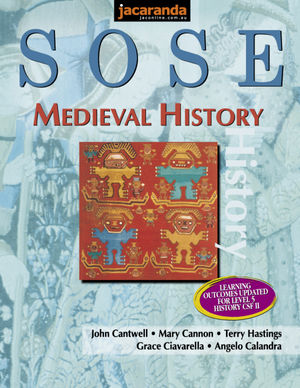 SOSE Medievil History
ISBN: 978-0-701-63381-3
Nov 1998, Jacaranda
160 pages
Product not available for purchase
Description
The Jacaranda SOSE Series is written specifically to support the National Profiles and the Curriculum and Standards Framework's learning areas of Studies of Society and Environment (or SOSE).
Full-colour, double-page spread presentation to capture student interest.
Varied student activities which develop the skills of participation, communication and investigation.
Comprehensive revision activities to consolidate student skills and concepts.
Detailed matrix showing how all strands and outcomes are covered.
Feature pages include skills development and major studies of important events and people.
Acknowledgements
Coverage of Outcomes
Introduction
Chapter One:?The Dark Ages
Chapter Two:?Life in medieval times
Chapter Three: Castles and knights
Chapter Four:?Medieval Japan
Chapter Five:?America
Chapter Six:?Renaissance and Reformation
Chapter Seven:?The age of discovery
Chapter Eight:?Invasion of the New World
Index