SQL Bible, 2nd Edition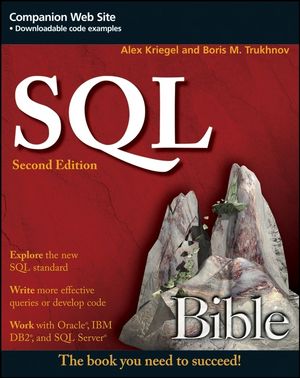 SQL Bible, 2nd Edition
ISBN: 978-0-470-22906-4 April 2008 888 Pages
Description
Combining theory with everyday practicality, this definitive volume is packed with the up-to-date information, new features, and explanations you need to get the very most out of SQL and its latest standard. The book is unique in that every chapter highlights how the new SQL standard applies to the three major databases, Oracle 11g, IBM DB2 9.5, and Microsoft SQL Server 2008. The result is a comprehensive, useful, and real-world reference for all SQL users, from beginners to experienced developers.
Acknowledgements.
Introduction.
Part I SQL Basic Concepts and Principles.
Chapter 1: SQL and Relational Database Management Systems.
Chapter 2: Fundamental SQL Concepts and Principles.
Chapter 3: SQL Data Types.
Part II Creating and Modifying Database Objects.
Chapter 4: Creating RDBMS Objects.
Chapter 5: Altering and Destroying RDBMS Objects.
Part III Data Manipulation and Transaction Control.
Chapter 6: Data Manipulation Language (DML).
Chapter 7: Sessions, Transactions, and Locks.
Part IV Retrieving and Transferring Data.
Chapter 8: Understanding the SELECT Statement.
Chapter 9: Multitable Queries.
Chapter 10: SQL Functions.
Chapter 11: SQL Operators.
Part V Implementing Security Using the System Catalog.
Chapter 12: SQL and RDBMS Security.
Chapter 13: The System Catalog and INFORMATION SCHEMA.
Part VI Beyond SQL: Procedural Programming and Database Access Mechanisms.
Chapter 14: Stored Procedures, Triggers, and User-Defined Functions.
Chapter 15: SQL and XML.
Chapter 16: SQL and Procedural Programming.
Chapter 17: The Future of SQL.
Appendix A: Accompanying Website.
Appendix B: The ACME Sample Database.
Appendix C: Basics of Relational Database Design.
Appendix D: Installing RDBMS Software.
Appendix E: Accessing RDBMS.
Appendix F: Installing the ACME Database.
Appendix G: SQL Functions.
Appendix H: SQL Syntax Reference.
Appendix I: SQL-Reserved Keywords.
Appendix J: The Other RDBMSs.
Appendix K: A Brief Introduction to Number Systems, Boolean Algebra, and Set Theory.
Index.
Chapter
Page
Details
Date
Print Run
Test Posting

12/20/07

---