SQL For Dummies, 7th Edition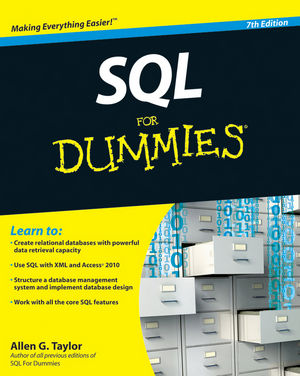 SQL For Dummies, 7th Edition
ISBN: 978-0-470-55741-9
Feb 2010
456 pages
Product not available for purchase
Description
Learn SQL the fun and easy way – no programming experience needed!
SQL For Dummies, 7th Edition, shows programmers and web developers how to use SQL to build relational databases and get valuable information from them. This book covers the core features of the SQL language. Topics covered include how to use SQL to structure a DBMS and implement a database design; secure a database; and retrieve information from a database. This edition will be revised to reflect the new enhancements of SQL/XML:2008.
The latest update of the perennial bestselling SQL For Dummies, which has sold more than 210,000 units in six editions.
SQL is the most popular database language in the world
Covers creating, accessing, manipulating, maintaining, and storing information in relational database management systems (DBMS) such as Access, Oracle, SQL Server, and MySQL.
Includes new content on using SQL with XML to power data-driven web sites and using SQL with Access 2010
Whether you're daunted by database development or a system admin star, SQL For Dummies, 7th Dummies will have you working your web site in no time at all.
Introduction.
Part I: Basic Concepts.
Chapter 1: Relational Database Fundamentals.
Chapter 2: SQL Fundamentals.
Chapter 3: The Components of SQL.
Part II: Using SQL to Build Databases.
Chapter 4: Building and Maintaining a Simple Database Structure.
Chapter 5: Building a Multitable Relational Database.
Part III: Storing and Retrieving Data.
Chapter 6: Manipulating Database Data.
Chapter 7: Specifying Values.
Chapter 8: Using Advanced SQL Value Expressions.
Chapter 9: Zeroing In on the Data You Want.
Chapter 10: Using Relational Operators.
Chapter 11: Delving Deep with Nested Queries.
Chapter 12: Recursive Queries.
Part IV: Controlling Operations.
Chapter 13: Providing Database Security.
Chapter 14: Protecting Data.
Chapter 15: Using SQL within Applications.
Part V: Taking SQL to the Real World.
Chapter 16: Accessing Data with ODBC and JDBC.
Chapter 17: Operating on XML Data with SQL.
Part VI: Advanced Topics.
Chapter 18: Stepping through a Dataset with Cursors.
Chapter 19: Adding Procedural Capabilities with Persistent Stored Modules.
Chapter 20: Handling Errors.
Chapter 21: Triggers.
Part VII: The Part of Tens.
Chapter 22: Ten Common Mistakes.
Chapter 23: Ten Retrieval Tips.
Appendix: SQL:2008 Reserved Words.
Index.