SSRIs in Depression and Anxiety, 2nd Edition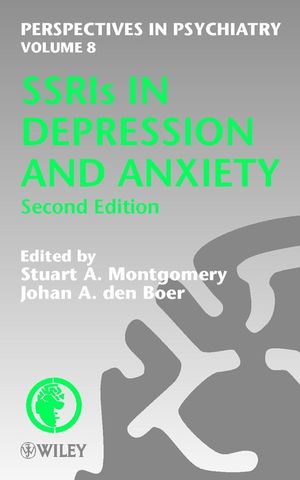 SSRIs in Depression and Anxiety, 2nd Edition
ISBN: 978-0-470-85373-3 November 2002 224 Pages
Description
SSRIs have been used as an effective treatment for depression for many years, but have recently become more widely used in the treatment of many other disorders including post traumatic stress, generalised anxiety disorder and obsessive compulsive disorder. This second edition will provide a timely update on the use of SSRIs in anxiety as their application in this area becomes more common and drug companies seek more widespread uses to maintain sales as SSRIs begin to loose basic patent protection.
Table of contents
List of Contributors.

Epidemiology of Depression and Anxiety Disorders (A. Pelissolo & J.-P. Lepine).

Biological Aspects of Anxiety Disorders and Depression (J. den Boer, et al.).

Comorbidity of Depression and Anxiety Disorders (R. Kessler).

Utility of SSRIs in Anxious Depression (W. Boyer & J. Feighner).

SSRIs in Panic Disorder (J. Ballenger).

Social Anxiety Disorder Treatment: Role of SSRIs (R. Lydiard).

SSRIs in Obsessive-Compulsive Disorder (S. Montgomery).

Serotonin and Serotonergic Drugs in Post-Traumatic Stress Disorder (J. Davidson & K. Connor).

SSRIs in the Treatment of Generalized Anxiety Disorder (D. Baldwin).

Index.