SUMO Your Relationships: How to handle not strangle the people you live and work with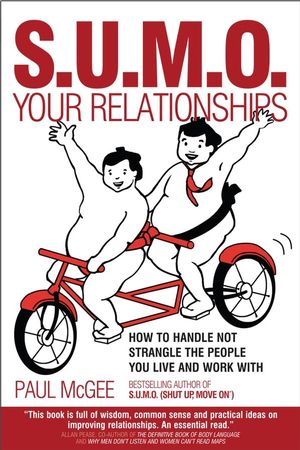 SUMO Your Relationships: How to handle not strangle the people you live and work with
ISBN: 978-1-907-29366-5 February 2010 Capstone 278 Pages
Description
When it comes to relationships, reality rules. We'd all like to think of ourselves as everyone's best friend, but what's the truth? Are you a hero or a zero to other people? Do you see yourself as others really see you? Do you need to make a fresh deposit into your relationship account before you go overdrawn?

S.U.M.O. Your Relationships will help you manage, maintain, grow and move on, in your key relationships with others and yourself. At some point in your life you are going to have to deal with difficult relationships, whether it's with a colleague, parent, friend or partner. Isn't it time you did a stock take of your relationships and started making the best of them?

S.U.M.O. Your Relationships has pit stops, pearls of wisdom and all the humour and inspiration you need to make the key changes in your life.  You will discover the seven S.U.M.O. realities followed by seven insights to help light the way to a brighter future.

PRAISE FOR S.U.M.O. YOUR RELATIONSHIPS

""This book is full of wisdom, common sense and practical ideas on improving relationships. An essential read.""
—ALLAN PEASE, Co-author of THE DEFINITIVE BOOK OF BODY LANGUAGE and WHY MEN DON'T LISTEN AND WOMEN CAN'T READ MAPS
SUMO Appreciation.
Introduction.
PART ONE.
The Seven SUMO Realities.
Reality Rules.
E + R = O.
Remember The Beach Ball.
Stress Makes You Stupid.
Investment Pays.
Give Yourself The VIP Treatment.
Beware of Light Bulbs.
PART TWO.
THE SEVEN INSIGHTS AND SEVEN CHARACTERS.
Check Out Your Attitude.
The Ditherer.
Humility Helps.
The Commander.
Listen Loud.
The Hijacker.
Excel in Encouragement.
The Awfuliser.
Express Your Expectations.
The Happy.
Positivity pays.
The Whinger.
Confront With Care.
The Swinger.
SUMO in Action.
Personal Post Script.
What Was Your SUMO Take Away?
Bring SUMO Into Your Organisation.
Appendix A: Overview of the Six SUMO Principles.
Appendix B: List of the 7 SUMO Question.
""Do you sometimes wrestle with relationships? Then a new book…might help you get to grips with making them  more successful."" (
Professional Manager
, September 2007)
""…explores new and powerful ways of building more positive relationships."" (Professional Manager, September 2007)
""…[the book] can certainly help you to deal with problems more effectively in both your professional and private life."" (Walsall Chronicle,  Thursday 13th September 2007)
""[the book] will help you manage, maintain, grow and move on, in your key relationships with others and yourself."" (Personnel Today, Tuesday 23rd October 2007)