Safe Kids: A Complete Child-Safety Handbook and Resource Guide for Parents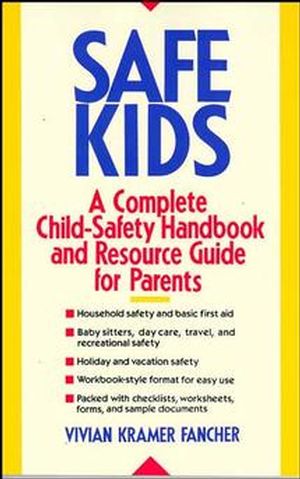 Safe Kids: A Complete Child-Safety Handbook and Resource Guide for Parents
ISBN: 978-0-471-52973-6 March 1991 209 Pages
Description
With immunization against major childhood diseases widely available, parental concerns in the nineties are focused on safety issues. A handbook and working reference for parents of children from birth through high school. Using positive guidelines rather than a list of do's and don'ts, the book will help you provide your child with a sense of security and the ability to act and react in challenging situations. Topics covered include school, street, transportation, recreation and medical safety, spending time at home alone, sexual abuse and more. Parents and children will learn how to handle the hazards of today's complex world.
Table of contents
Identification and Personal Records.

School Safety.

Street Smarts.

Caregivers.

Home Alone.

Around the Home.

``Reach Out and Touch''.

Medical Safety.

Sexual Abuse.

Transportation Safety.

Cycle Safety.

Recreation Safety.

Odds 'N Ends (A Safety Potpourri).

Parent's Safety Notes.

Bibliography.

Index.