Safe Transfer and Retrieval (STaR) of Patients: The Practical Approach, 2nd Edition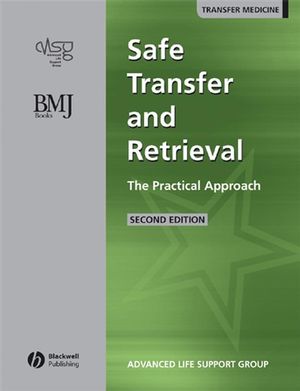 Safe Transfer and Retrieval (STaR) of Patients: The Practical Approach, 2nd Edition
ISBN: 978-1-118-28925-9 July 2017 BMJ Books 248 Pages
Description
The safe transfer of all hospital patients, especially those who are critically ill, is of crucial importance, demanding organisational, as well as clinical skills.
Safe Transfer and Retrieval of Patients (STaR) is aimed at all health care workers involved with inter and intra-hospital transfers. It provides a much needed structured approach to transfer medicine, together with sound guidance on relevant clinical procedures.
The second edition has been extensively revised in line with new developments in transfer medicine. The book has been redesigned with five distinct sections covering:
the principles of the STaR structured approach to transfers
the management of the transfer or retrieval
practical procedures related to transfer medicine
an overview of clinical care during the assessment and stabilisation phases of transfer.
the legal and safety aspects of transfers, specific differences in helicopter transfers and transfers involving children
A new chapter, the infectious or contaminated patient, has been added, in light of current concerns around the potential transfer of infection between patients and staff.
The major revisions to this STaR coursebook bring it into line with the latest thinking on patient transfers, making it an invaluable guide for anyone involved in this aspect of health care.
Table of contents
Part I: Introduction
.
1 Introduction.
2 The structured approach to transfers.
Part II: Managing the transfer.
3 Assessment and control.
4 Communication.
5 Evaluation.
6 Preparation and packaging.
7 Transportation.
8 Putting ACCEPT into practice.
Part III: Practical aspects of transfer medicine.
9 Oxygen therapy and monitoring.
10 Securing and packaging.
Part IV: Assessment and clinical aspects of transfer medicine.
Chapter 11 Introduction to the clinical assessment of patients.
Chapter 12 Specific clinical conditions.
Part V: Special considerations.
13 Paediatric transfers – an introduction.
14 Air transfer – an introduction.
15 Keeping staff safe.
16 The infectious or contaminated patient.
17 Legal and insurance issues.
18 Documentation.
Part VI: Appendices.
Appendix A Levels of clinical care for hospitalised adults.
Appendix B The Transfer Master.
Appendix C Oxygen cylinder sizes and contents.
Appendix D Oxygen therapy guidelines.
Appendix E Paediatric transfers: an aide-mémoire.
Appendix F Paediatric transfer equipment list.
Appendix G Generic transfer checklists appropriate for the inter-hospital transfer of level 3 patients.
Appendix H STaR-based general transfer checklist.
Appendix I Transfer competences.
References and further information.
Glossary.
Index
Features
Completely revised and updated, this book covers the all important procedures that ensure safe transfer in life threatening situations


Discusses both inter and intra-hospital transfers

Now in a handy waterproof ring binder