Safeguarding Children: A Shared Responsibility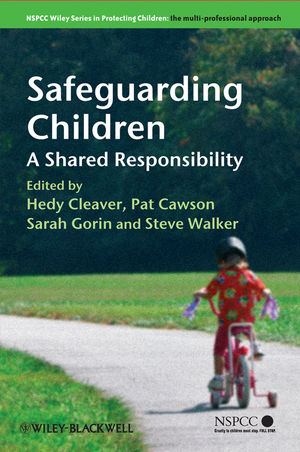 Safeguarding Children: A Shared Responsibility
ISBN: 978-0-470-51873-1
Apr 2009
300 pages
Description
A multi-professional approach to safeguarding children, which accompanies the Department of Health's new training courses.
Focuses on the methods of identifying children at risk and details what happens at each stage of the social work process

Presents a fully multi-disciplinary approach as to how professional groups and services should co-operate to safeguard children

Part of the prestigious NSPCC Wiley Series in Safeguarding Children

Accompanies the training courses run by the DoH and NSPCC for professionals working with children
List of Contributors.
Preface.
The Editors.
Acknowledgements.
Introduction (Jenny Gray).
I: Themes and Principles of Safeguarding.
1 Putting Children and Their Rights at the Heart of the Safeguarding Process
2 Working Effectively with Parents.
3 The Wider Family and Community.
4 Children Living Away from Home.
5 Working Effectively in a Multi-Agency Context.
II: The Process of Safeguarding.
6 Should I Be Worried?
7 Approaching Someone for Help.
8 Carrying Out or Contributing to an Assessment.
9 Judgements, Decisions and Plans.
10 Intervention.
11 Reviewing and Ending Intervention: Achieving the Best Possible Outcomes for Children.
Index.
Focuses on the methods of identifying children at risk and details what   happens at each stage of the social work process

Presents a fully multi-disciplinary approach as to how professional groups and services should co-operate to safeguard children

Part of the prestigious NSPCC Wiley Series in Safeguarding Children

Accompanies the training courses run by the DoH and NSPCC for professionals working with children