Sage 50 Accounts For Dummies, Portable Edition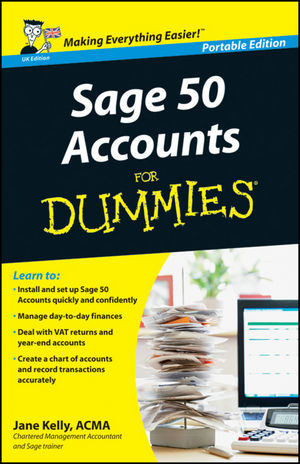 Sage 50 Accounts For Dummies, Portable Edition
ISBN: 978-1-119-97446-8
Oct 2011
296 pages
Product not available for purchase
Description
Get to grips with Sage 50 Accounts in simple steps
This comprehensive guide walks you through every aspect of setting up and using Sage 50 Accounts, from installing the software to running VAT returns and producing monthly and yearly accounts. Packed with step-by-step instructions and fully illustrated with screenshots, this book is the easiest way to get the most from Sage 50 Accounts and take control of your business finances.
Install and set up Sage 50 Accounts – understand the Sage 50 Accounts product range, get your software up and running quickly and efficiently and navigate your way around the system

Manage day-to-day functions – prepare and deal with customers' and suppliers' paperwork, produce invoices, and record, maintain and correct data entries

Perform monthly, quarterly and annual accounting routines – including reconciling bank accounts, preparing management information and running VAT returns

Generate reports to monitor the performance of your business – produce monthly accounts and reports to assist with the day-to-day decision making in your business
Open the book and find:
Up-to-date information on the 2011 Sage 50 Accounts release

Quick tips for speedy processing

Guidance on creating accurate management reports

Simple screenshots to guide you step-by-step through each process

Options for tailoring Sage 50 Accounts to the needs of your business
Learn to:
Install and set up Sage 50 Accounts quickly and confidently

Manage day-to-day finances

Deal with VAT returns and year-end accounts

Create a chart of accounts and record transactions accurately
Introduction.
Part I: Setting Up and Installing Sage 50 Accounts.
Chapter 1: Introducing Sage 50 Accounts.
Chapter 2: Creating Your Chart of Accounts and Assigning Nominal Codes.
Chapter 3: Setting Up Records.
Chapter 4: Recording Your Opening Balances.
Part II: Looking into Day-to-Day Functions.
Chapter 5: Processing Your Customer Paperwork.
Chapter 6: Invoicing Your Customers.
Chapter 7: Dealing with Paperwork from Your Suppliers.
Chapter 8: Recording Your Bank Entries.
Chapter 9: Maintaining and Correcting Entries.
Part III: Functions for Plus and Professional Users.
Chapter 10: Processing Sales Orders.
Chapter 11: Processing Purchase Orders.
Chapter 12: Keeping Track of Your Products.
Chapter 13: Managing Projects.
Part IV: Running Monthly, Quarterly and Annual Routines.
Chapter 14: Reconciling Your Bank Accounts.
Chapter 15: Running Your Monthly and Yearly Routines.
Chapter 16: Running Your VAT Return.
Chapter 17: Running Monthly Reports.
Part V: The Part of Tens.
Chapter 18: Ten Funky Functions.
Chapter 19: Ten Wizards to Conjure.
Index.