Sage 50 Accounts For Dummies, UK Edition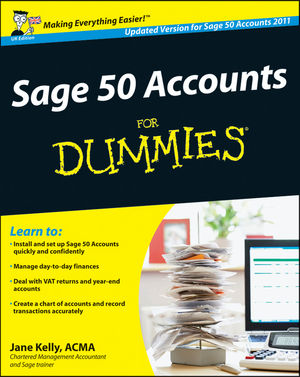 Sage 50 Accounts For Dummies, UK Edition
ISBN: 978-1-119-99211-0 November 2010 388 Pages
Description
NOW UPDATED FOR THE 2011 VERSION OF SAGE 50!
This step-by-step guide offers the latest guidance on using Sage 50 Accounts, the UK's most popular small business accounting solution. From setting up and installing the software and creating your chart of accounts to invoicing customers, running VAT returns and producing monthly accounts; Sage 50 Accounts For Dummies will have you handling your own accounts efficiently – an profitably in no time.
Sage 50 Accounts For Dummies includes information on:
Setting Up and Installing Sage Line 50
Introducing Sage Line 50?
Creating your Chart of Accounts
Setting Up Records
Opening Balances
Day to Day Functions
Preparing your Customers paperwork
Invoicing your Customers
Dealing with paperwork from your Suppliers
Recording your Bank entries
Maintaining and correcting entries
More Day to Day Functions
Sales Order Processing
Purchase Order Processing
Keeping track of your Products
Setting up Projects
Using Foreign Currency
Monthly/Quarterly/Annual Routines
Reconciling your Bank account
Working with the Company module 
Running VAT Returns
Using Reports to manage your business
Producing Monthly Accounts
More Complicated Stuff
Ten Useful Reports
Quick Tips for Speedy Processing   
Wizards
Table of contents
Introduction.
Part I: Setting Up and Installing Sage 50 Accounts.
Chapter 1: Introducing Sage 50 Accounts.
Chapter 2: Creating Your Chart of Accounts and Assigning Nominal Codes.
Chapter 3: Setting up Records.
Chapter 4: Recording Your Opening Balances.
Part II: Looking into Day-to-Day Functions.
Chapter 5: Processing Your Customer Paperwork.
Chapter 6: Invoicing Your Customers.
Chapter 7: Dealing with Paperwork from Your Suppliers.
Chapter 8: Recording Your Bank Entries.
Chapter 9: Maintaining and Correcting Entries.
Part III: Functions for Plus and Professional Users.
Chapter 10: Processing Sales Orders.
Chapter 11: Processing Purchase Orders.
Chapter 12: Keeping Track of Your Products.
Chapter 13: Managing Projects.
Chapter 14: Using Foreign Currencies.
Part IV: Running Monthly, Quarterly and Annual Routines.
Chapter 15: Reconciling Your Bank Accounts.
Chapter 16: Running Your Monthly and Yearly Routines.
Chapter 17: Running Your VAT Return.
Part V: Using Reports.
Chapter 18: Running Monthly Reports.
Chapter 19: Tackling the Complicated Stuff.
Chapter 20: Running Key Reports.
Part VI: The Part of Tens.
Chapter 21: Ten (Okay, Eleven) Funky Functions.
Chapter 22: Ten (Or More) Wizards to Conjure.
Appendix: Glossary.
Index.